The West Coast/East Bank sub division meet of the Guinness "Greatest of the Streets" tournament continued on Friday night at the Pouderoyen Tarmac with lots of drama unfolding.
There were a series of walkovers on Friday night, leading to lots of murmuring and the eventual result being three teams banned from the competition for the next two years. Those teams are Agricola, Dram team and Up Like 7.
As such, Bagotstown Warriors, Brothers United and up Top Bosses all received walk overs owing to their wayward opponents.
In actual football action for the third night of competition, West Side Ballers were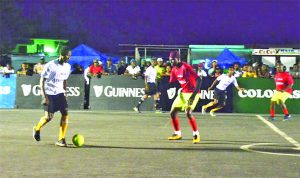 the first to register a legitimate win after they trounced Phoenix Ballers. Two Guinness goals from Kevin Frank and Morgan Denny in the 19th and 20th minute respectively were responsible for the West Side Ballers' win.
A penalty affair between Ballers Empire and Young Ballers saw fans being treated to riveting football. As the game winded down, Ballers Empire were the ones to take the win with 1-0 at the penalty line.
ESPN and Genna also had a similar encounter, with the result being decided on the penalty line. Both sides were one all by the end of regulation time, thanks to goals from Trevon Lythcott (ESPN) and Quasi Weekes (Genna) paving the way for penalty kicks which ESPN won 2-1.
Jetty registered another win in the 2019 tournament, this time over Rising Stars. A deadlocked regulation game made way for penalties, on which Jetty capitalised with a 2-1 win.
In the final encounter, Show stoppers schooled Boom Bang to continue their dominance in the competition. The 2018 champions had a Guinness Goal from Marvin Josiah and another from Stephon Jupiter to seal a 3-0 win.
The competition will now enter the quarter-final round with defending champs Show stoppers slated to take on West Side Ballers. Jetty will battle with Up Top Bosses for a spot in the semi-final whilst ESPN will take on Baller Empire for their shot at the spoils. The last quarter-final will see Bagotstown Warriors taking on Brothers United.
The action continues on Wednesday, February 6.