Domestic violence
Ranks attached to the Timehri Police Station, East Bank Demerara (EBD) are coming in for harsh criticism for their non-action to effect the arrest of a Timehri man, who attacked and severely beat the mother of his child on April 25, 2019 causing the woman to lose several teeth and sustain other injuries.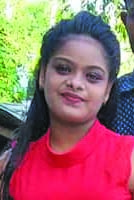 Nirmala Sookwah, 20, was beaten by the father of her child after she refused to continue the relationship with him after suffering domestic violence.
"If the Police had told us that they can't find him, we would've accepted that, because at least we would know that they were trying, but up to yesterday (Saturday) I saw this bai, he ain't hiding, so the Police can easily find him, but they are not trying," Naresh Sookwah, the woman's father, told Guyana Times.
As such, the man is pleading with the authorities to protect his daughter from the suspect.
"The gyal afraid, she can't live in peace because he deh out here and we ain't know when he can try something again, because nobody ain't doing anything to him. We really need to see him arrested; she have a small son to live for," the elder Sookwah added.
As a result of the beating at the hands of the suspect, Sookwah lost several teeth, sustained a broken jaw and nose, and suffered injuries to her left knee.
On the night of the incident, Sookwah had already retired to bed in her Lot 131 Hyde Park, Timehri home, when there was a knock on her door followed by the suspect calling out her name.
Scared for her life, Sookwah recounted that she did not respond to the calls which caused the suspect to leave. He, however, returned later, broke a window, and gained access to the house.
The woman said that she ran out of the house, but was caught by the man and thrown down a hill in the area.
She was then further attacked and beaten. A relative went to her aid and the suspect fled the scene.
Sookwah's father had earlier related to this newspaper that his daughter was in an abusive relationship with her attacker, but separated from him two months ago.
Sookwah left the relationship after she was severely beaten after questioning her then lover about a sum of money which belonged to her that he allegedly used to purchase a motorcycle. Following the beating and her departure from the home, the suspect has been following her and begging her to resume the relationship.
When contacted, Divisional Commander Marlon Chapman assured that stringent efforts were still being made to apprehend the suspect.