President David Granger, on Friday afternoon, participated in the Agriculture Ministry's annual National Tree Day activities held at the Union Sports and Cultural Complex, No 53 Village, Region 6 (East Berbice-Corentyne) the Public Information and Press Service Unit of the Ministry of the Presidency stated.
Granger, in his address, said trees are important to Guyana's sustainable development drive. He said the National Tree Day highlights the importance of trees to the economy and environment, adding that "trees are part of our natural patrimony".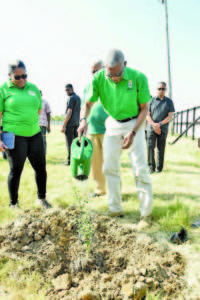 "The Day's celebrations have emphasised the aesthetic, economic and environmental importance of trees and, also, their social and recreational value," he is quoted by the Public Information and Press Service Unit as saying.
The observance of National Tree Day commenced in October 2015 and President Granger reminded that trees are essential to human existence and the preservation of Guyana, as a Green State.
He said trees provide products used by humans such as clothing, food, housing and medicines. They protect our biodiversity, provide ecosystem services, such as the regulation of the water cycle, pollination, temperature modulation, carbon sequestration and air purification; and beautify the surroundings.
"Guyana's trees are the part of the lungs of the earth and the habitat of our unsurpassable biodiversity. The environment is world class," the President said while noting that Government will continue to promote the preservation, proliferation, protection and planting of trees.
Guyana's forests provide essential environmental and ecosystem services which protect the country's natural capital and its people and sustain life. The forests are the habitat of more than 800 species of birds, 179 species of reptiles, 225 species of mammals and much of the 130 species of amphibians.
Guyana has dedicated the Kanashen Protected Area – located in the Rupununi and spanning an area of almost 7,000 km2 – to the Queen's Commonwealth Canopy, a network for forest conservation projects.
Granger, however, reminded that the extractive industries could present a threat to the environment. These industries, despite the economic benefits they provide, are associated with air pollution, biodiversity loss, freshwater and oceanic contamination, greenhouse gas emissions, land degradation and resource depletion.
Meanwhile, Agriculture Minister Noel Holder reiterated President Granger's appeal for citizens to preserve the environment.
The exercise was themed "Time waits for no one; the best time to plant a tree is now".