This Sunday's Grass track meet at the Anna Regina Community Centre Ground continues to gain momentum after the organizers receive a significant boost with the support of Trophy Stall added to that of R. Khan AutoZone.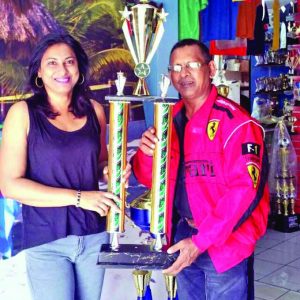 Trophy Stall is the official provider of accolades for the highly anticipated national grass track championship which will end in late November.
Organiser, Sheik Yassin expressed gratitude for the support and added that it will help tremendously in providing fans with the best possible experience on race-day.
The organizer is urging fans to go and show their support since he reflected on the success the event had in 2016 and the riders are eager to showcase more daredevilry this time round.
The packed grass track calendar has Hampton Court as the venue for the next Essequibo meet on August 27 followed by action in the Mining Town of Linden who will be treated on October 29. The grand finale is slated for November 26 at the Ogle Community Centre Ground.
To date 22 riders from Berbice, Essequibo and the East Coast of Demerara have confirmed their participation this is in addition to the Surinamese who are hoping to participate in all the legs as well.
Race days will have 10 races are carded across three categories; Professional, Novices and Chappy.
The professional riders will have five races at 12 laps each while the Novices will have 10 laps and the Chappy will ride around five times.
At the last finals, daredevil 'Andy' Wong rode away with the overall title and was trailed by Ramcoomar in second and Stephen Nobrega third.
Up and coming Avo Ramkumar, conquered the circuit in the novice division and another exciting and competitive season is in the making.