…as local fishers report reduced production
The United States is hoping to make a positive impact on the local fishing industry by addressing illegal, unreported, and unregulated fishing.
US Ambassador to Guyana, Sarah-Ann Lynch discussed the issue with fisherfolk on the Corentyne, Region Six (East Berbice-Corentyne) on Wednesday.
During her visit, she met with the Number 66 Fisherman's Co-op to get a first-hand view of some of the issues affecting the fishing industry, including illegal, under-reported and unregulated fishing.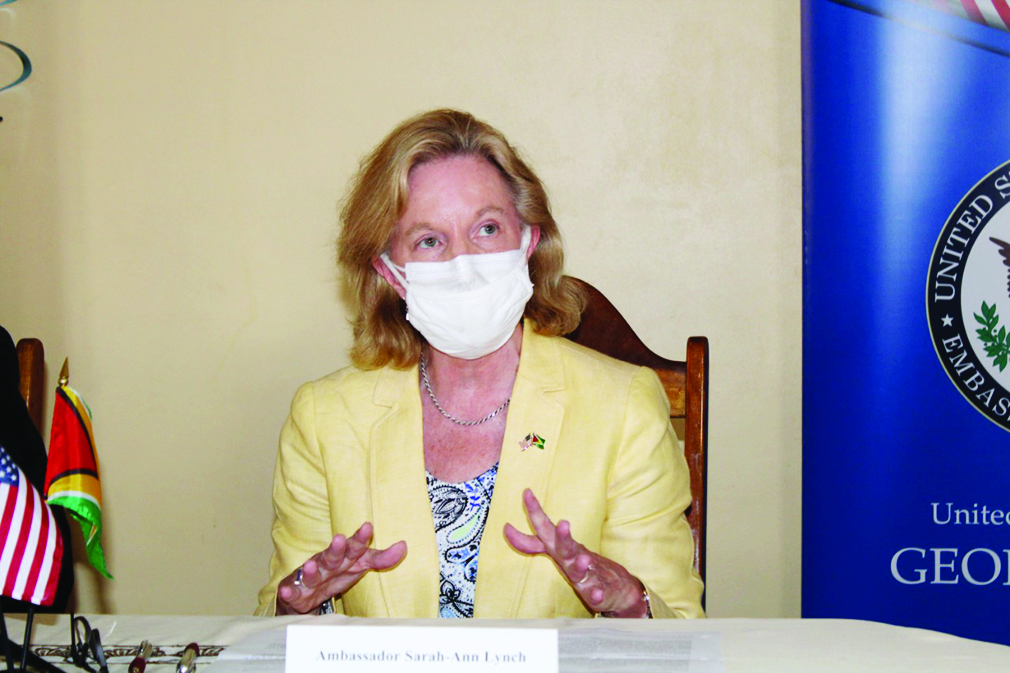 Addressing the media in Region Six after the engagements, Ambassador Lynn explained that the issue of illegal, unreported, and unregulated fishing was an important one.
"We now have a new administration in the United States right now and President Biden is very concerned about climate change. So, the issue of illegal fishing not only impacts the environment but it impacts global economies as well."
According to the Ambassador, 26 million tonnes of fishes is caught illegally annually.
"What that means is that money in the fisherfolk pockets are being taken out of their pockets and going into places where it should not go," she said.
There are some 10,000 Guyanese fisherfolk operating locally.
The Ambassador is of the view that the fishers should be paid appropriately and profit from their work.
Meanwhile, during her engagement with the fisherfolk, Ambassador Lynn said she was told that the fishers have been reporting reduced production.
However, none of the officials reported observing illegal fishing.
"Perhaps some of the larger commercial ships that are out there are fishing at such a rate that is impacting these fisherfolk who fish closer to shore. However, I believe some of the immediate concerns are the licensing issue and the cost of receiving your licence from Suriname," she said.
Guyana and the United States have entered into an agreement under which the two countries can do joint patrolling of Guyana's waters when it is suspected that there is illegal fishing or transit of illegal products.
Catfish ban
Asked about the possibility of having the ban on the exporting of catfish to the US lifted, the Ambassador said that there were technical meetings with officials in Guyana to ensure all of the appropriate safety measures were in place for export.
"They are working on going through that list and as soon as that is completed, there will be some good news in the near future," she posited.
Meanwhile, several fisherfolk have expressed concern about negative impacts of the oil and gas industry on their trade.
However, the Ambassador said there were no statistics to substantiate those claims. In fact, she said that there were currently several studies being done in this regard.
The Ambassador also met with Corriverton Mayor Winston Roberts, and concerns about COVID-19 management were discussed.
The Mayor and the Ambassador also looked at economic development along with development for the border town once COVID-19 has been managed. The two officials discussed arrangements on how jobs could be created.
Ambassador Lynn also met with the Upper Corentyne Chamber of Commerce, which expressed concern about security and governance. (G4)