…highlight poor drainage, waste disposal issues
By Shemuel Fanfair
Seventeen months after Local Government Elections (LGE), several communities across the country remain without local representation. This is reflected in the plight of residents of lower West Bank Demerara (WBD) communities, who, after decades, still have not had their communities incorporated in the local government system.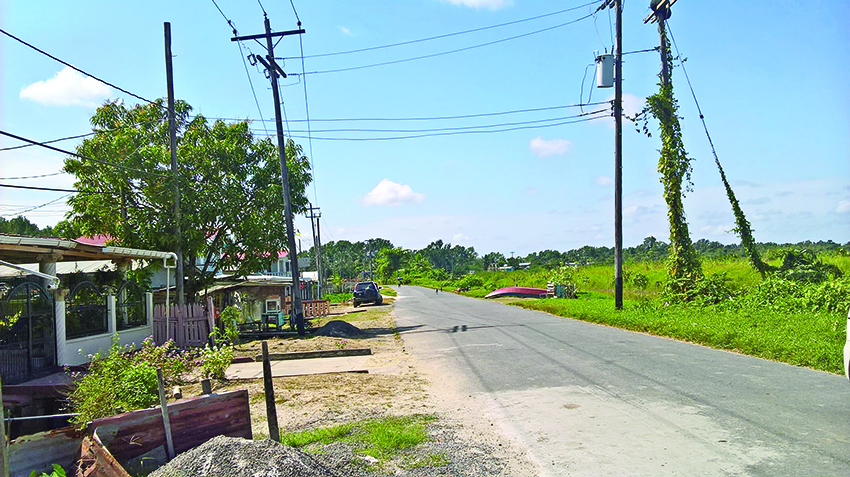 Villages beyond Patentia — which include Vriesland, Vive la Force and Free & Easy — are not represented by a Neighbourhood Democratic Council (NDC); and, in 2016, had complained of being disenfranchised after they were debarred from voting at Local Government Elections (LGE). Reasons advanced for their debarment had included that many do not pay rates and taxes, since they do not hold titles for lands.
Residents of these villages have listed poor drainage and improper garbage and sewage disposal among the bugbears affecting them.
In a visit to Vriesland late last week, Guyana Times was told by residents there that their situation remains pretty much the same. Several residents told this publication that because of the unregulated status of the area, some individuals are not properly disposing of their sewage.
A mother of one claims that water from her neighbour's septic tank flows into her yard, and this of course is jeopardizing the health of her family, especially her child. Her major concern was in regard to the non-existence of a representative individual or corporate body to address such issues; all because the community does not fall within the local government system.
"They nah gat nobody or no authority you could really go to!" she expressed. Her husband concurred with her opinion, telling this publication that he, too, hopes the problems of the community would be addressed soonest.
Many of the houses in the area are in close proximity to each other, and a group of housewives expressed their disdain for repeated burning of garbage on the roadside. Their main concern was the health of young children, who are home on school vacation and can suffer from ailments brought on by smoke inhalation.
Many of the trench networks which run alongside sugarcane fields have been maintained by Guyana Sugar Corporation (GuySuCo). Now that operations at the Wales Estate have scaled down, it is unclear if the sugar corporation would continue to invest in maintaining these waterways.
On a positive note, however, residents described their community as peaceful and quiet. They are hopeful that their needs would be better addressed once their village is incorporated into the NDC system.
In the run-up to last year's Local Government Elections, it had been revealed that many of the newly created housing schemes and communities were not handed over to the relevant NDCs and Town Councils. And former squatting areas which had long been regularised were also left out of the local government system.
This scenario deprives many of the local democratic organs from the requisite finances which can be garnered through rates and taxes and used to foster development of the communities and improve the quality of life of residents.