…after koker door breaks
A broken sluice door in the community of Windsor Forest, West Coast Demerara (WCD) has activated calls of concern from residents for better infrastructure in wake of the threats they face.
Given that the community sits below sea level, residents were alarmed when the koker door collapsed this weekend. As efforts unfolded to prevent flooding, many persons were concerned about the possibility of a recurrence.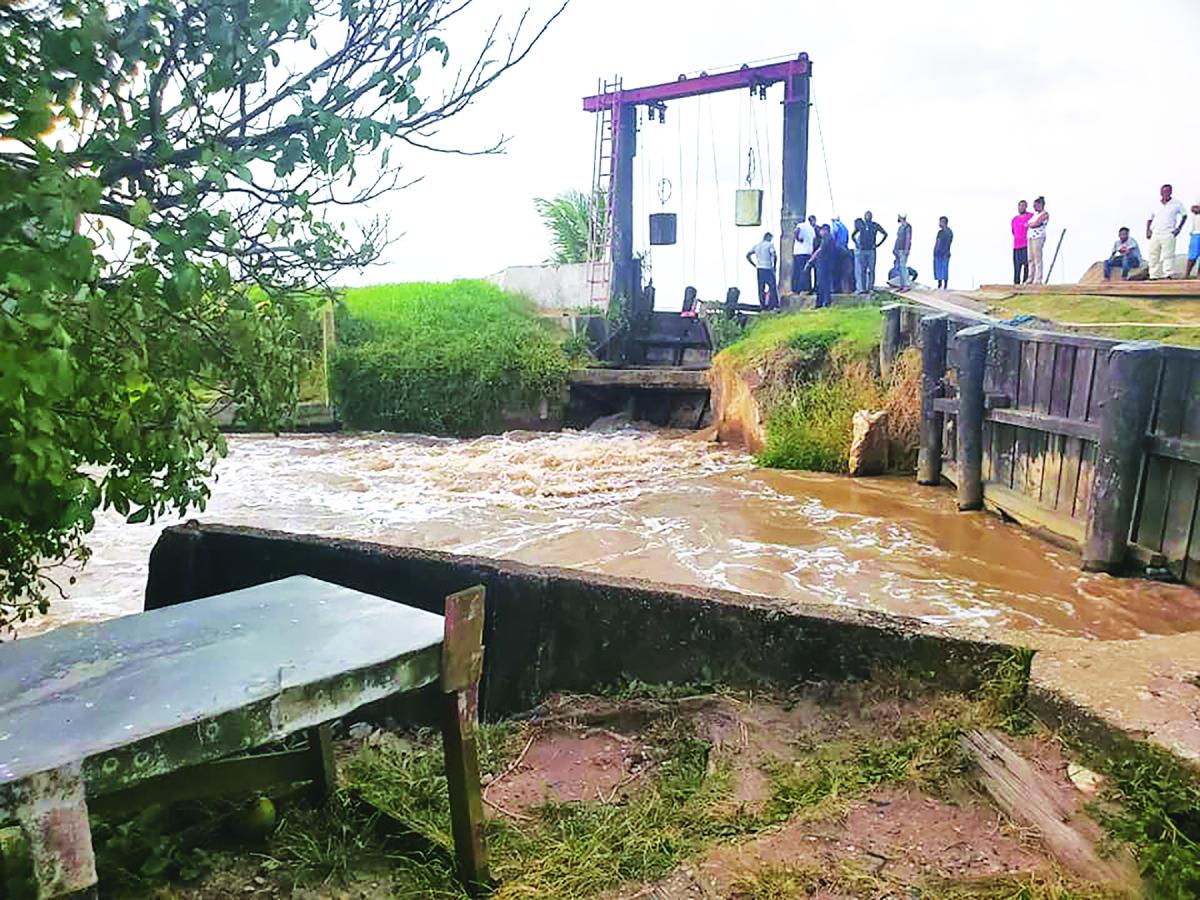 Home Affairs Minister Robeson Benn; Minister within the Public Works Ministry, Deodat Indar; Local Government Minister Nigel Dharmalall and officials from both the Neighbourhood Democratic Council (NDC) and the National Drainage and Irrigation Authority (NDIA) were on the ground to assess the situation.
In light of the high tide, a pump was operationalised and works later commenced when the water level dropped. Machinery aided workers as the sea defence system was secured promptly.
On Sunday, a resident contacted Guyana Times and highlighted that there was need for such structures to be properly maintained, checked for damage, and reinforced when high tides approached.
Dewar (only name provided) contended, "This should give officials an idea that these structures need regular checking and so on, because at any time it could give away and we could be affected…It must not be when something happen that they step in. It should always be maintained."
He noted that it would be devastating should the systems fail, since many persons would be severely affected.
"It was a high tide and if the water was coming in, it could affect us a lot. I have a lot to lose. People have a lot to lose around here. So, anything that would ensure it doesn't happen would be appreciated," Dewar stressed.
Last month, some $2.9 billion was awarded for the construction and rehabilitation of sea defence structures through 22 contracts from the Public Works Ministry. Government's overall vision is to use $5 billion this year towards enforcing and enhancing the sea defence mechanisms. Funds this year are for structures at Grove, La Resource, Maria's Delight, Zeelandia, Leguan, and Bygeval among others.
Last month, Vice President Bharrat Jagdeo met with stakeholders from the coastland to discuss the Government's national strategic flood protection measures, where he underscored the need for adaptation at the earliest. There, he said Government planned on tapping into the oil revenues to build and invest in management systems.
"The cost of doing so is enormous to fix our sea defences. These water management systems require heavy investments. Part of the oil resources have to be spent in this manner. Many developing countries now are waiting for the developed world to provide funds for adaptation," Jagdeo was quoted as saying. (G12)