The Tourism, Industry and Commerce Ministry recently awarded the winners of its "Snap and Share" photo competition that was done in observance of Guyana's 56th Independence Anniversary.
The annual photo competition which began last year features random persons taking photos of Guyana's tourism products and experiences and submit to the Ministry.
The photos are then posted on the Ministry's social media pages and those with the most likes and shares are selected as winners.
The first-place prize was $100,000 and a trip for two to Kaieteur from Evergreen tours while the second-place prize was $75,000 and a weekend with a Suzuki Jimny from Ansa Motors and the third-place prize was $50,000. The fourth-place prize was $25,000.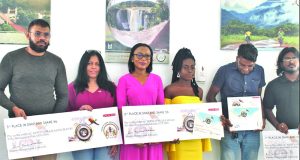 Coming in at first place was Shivanie Singh followed by Jermaine Messiah and Govindra Raghubansi copped the 3rd place while Kyle Joseph was the fourth-place winner.
There were several other consolation prizes of $10,000, along with trips and meals, compliments of Evergreen Adventures, The Marriott Hotel, Cara Lodge, Old Fort Tours, and Odyssey Tours.
At the award ceremony, Minister of Tourism Oneidge Walrond said that they decided to continue the competition due to the exponential response it received last year and the growing interest among Guyanese.
The Minister noted that the competition helps in the efforts to promote Guyana's tourism sector.
"With this Snap and Share, it is just our opportunity at the Ministry and with all Guyanese to really share our beautiful country."
This initiative, she stated, reflects the growing appreciation by more Guyanese of the country's tourism products, experiences, and natural beauty, which did not exist before.
"Destination Guyana is truly beautiful, her prettiness, that she is untouched and that's what many visitors have been enjoying for a long time and we Guyanese have not really appreciated, and more and more of us are beginning to appreciate and that is the trust and the drive," she said.
Minister Walrond also highlighted the great potential of Guyana's tourism sector. "We believe not only in tourism as a way to market Guyana, but also as a way to drive economic activity for every single region, and every single community."
"We are focusing on sustainable and community-led and community-driven tourism. What that means is that every community will own…and will [be] able to benefit from the tourism products," she said.
The Minister further extended her gratitude to this year's participants and sponsors, and encouraged persons to participate and next year's competition which will feature bigger prizes.