− congratulates Van Lange on Pan Am qualification
One would think that two back-to-back, high-stakes international tournaments would scare an athlete out of their mind. However, this may not be the case, especially for table tennis athlete Miguel Wong, who is setting out to participate in two Pan American Championships.
He would first be involved in the International Table Tennis Federation's (ITTF's) Senior Pan American Championships, and then in the first-ever Junior Pan American Games. Qualifying for both tournaments just months apart, Wong has jetted off to Germany, where he will spend time at the Topspin Tischtennis Center in preparation for these competitions.
Speaking with Guyana Times Sport prior to his departure, Wong shared that he is currently feeling no pressure.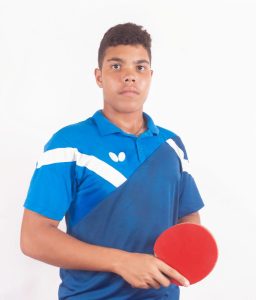 "It's no pressure. For the first tournament, it is a little bit for the Senior Competition. Now that I'm heading into the senior category in the sport, the tournament will be very helpful, having to play one tournament at least a little over a week prior to the other tournament, that I'm mainly focused on," the 21-year-old said.
As he detailed his plan to feed off the first competition in preparation for the next, he noted that his only hope is to be as prepared as ever for the events. Wong said, "The goal is to be as much prepared for the first one, and then from there we can – in the days leading up to the other one – we can adjust and fix a little more (of what's) lacking in the game, if we find anything different."
Meanwhile, Jonathan Van Lange, who will be joining Wong for the Junior Games in Colombia, came in for high praise from his clubmate on his ascension to the tournament.
"Also, congratulations to Jonathan for getting the spot! I'm very happy for us to go together, 'cause I know it's the first Junior Games, me being the first Guyanese so far to qualify, and now we have another. So, it's always good to have him," Wong shared with this publication, noting that it's good to have a Guyanese teammate in the sport.
Wong also declared his admiration for the work ethic of the 14-year-old Jonathan Van Lange, and said he looks forward to working with him in order to make the nation proud.
"He's also a very good junior player, and it's very great to have him coming with us. We're going to support each other; we have a good chemistry, we play at the club, we're actually clubmates, I often mentor him from time to time, so it's a great combination. Together, we're just going to try our best," Wong declared.
The Senior ITTF Pan Am Championships will run from November 13-19 in Lima, Peru, while the Junior Pan Am Games will commence on November 25 in Cali, Colombia and run until December 5. Guyana's team for the Junior Games currently consists of the two table tennis players Wong and Van Lange, Swimmer Aleka Persaud and Badminton players Priyanna Ramdhani and Akili Haynes.