By LaWanda McAllister
Two youngsters are now dead and three were seriously injured after the car in which they were travelling crashed into a utility pole along Homestretch Avenue, Georgetown, in the wee hours of Sunday.
Dead are 20-year-old Dakera Gritten, a labourer of Lot 2104 Nutmeg Street, Festival City, Georgetown, and 18-year-old Tonika Halley, a mother of one of Phase 2 East La Penitence, Georgetown.

The injured persons were identified as Delvern Luthers of Wortmanville, Georgetown; Joel Rose of D'Urban Street, Georgetown, and Troy Glen of Laing Avenue, Georgetown.
Based on reports received, the five young people had just left a barbeque in South Ruimveldt and were heading to a sporting spot at Garnett Street, Kitty, when the driver allegedly lost control of the motor car and slammed into the pole.
Police said the car was proceeding west in the northern direction of the said avenue at a fast rate when the accident occurred.
Based on reports, the car flipped several times and ended up in a nearby trench. At the time of the accident, the five persons were in the vehicle. Gritten reportedly died on the spot while Halley died while receiving medical attention at the Georgetown Public Hospital.
At the home of Gritten on Sunday, his sister, Fabiola Gritten, related that she was at home and at about 01:30h, she received the news that her younger brother was involved in an accident and that he had died.
"I rush over at the scene and I was told that it was car accident. I was told that after the accident my brother ended up in the gutter. He came out of the car and walked out of the gutter. When got out, a girl put him to lie down and told him to relax because he was in shock. He was responding at the time, he was breathing," she said.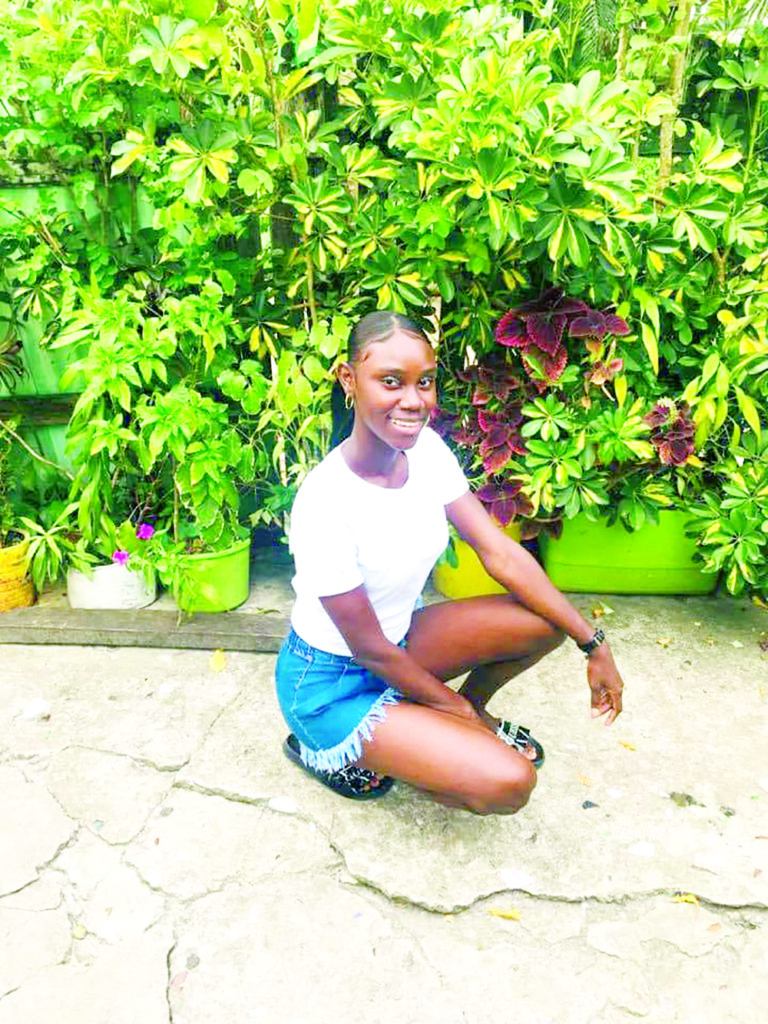 According to Fabiola, public-spirited citizens called for an ambulance and the ambulance came to the scene long after the accident had happened.
"Persons who were passing stopped and helped the others who were in the car, and my brother began vomiting thick clot blood. The ambulance came and look after him but apparently, they noticed that he would not have made it, so they just strap his neck and took him back out of the ambulance and leave him on the floor of the vehicle and went and look after the other persons in the car."
The dead man's sister said shortly after attending to the other victims, her brother that was left lying on the floor took his last breath.
She explained that before he left home, he told them that he was going out with his best friend, and as such, he was warned to be careful on the roadway.
"Mommy told him to take the keys and lock the door, and the last thing she said to him was be careful on the road, and he said 'yes mom I will be careful' and he left with his friend in the car… he fought for his life, he was fighting but there wasn't much they could have done," she said.
Fabiola said the tragic death of her brother came as a blow to their family, not only because he was young, but because he was his mother's only boy and last child.
Over at the home of Halley, her uncle, Travis Williams, said he returned home from work at about 22:00h on Saturday evening and had inquired about her whereabouts. He said he was told that she went out with a group of friends to a barbeque in South Ruimveldt.
The man said he didn't worry, since it was the weekend and his niece was with her friends.
"We were liming in front the shop and around midnight, I got a call that my nephew and Tonika reach up in an accident but I know she leave to go to South… we went to the scene and we realise that she was on the ground with two other guys," he said.
Williams said his niece was taken to the Georgetown Public Hospital where she died while being treated for her injuries a few hours later. She reportedly took her last breath at about 05:10h on Sunday morning.
Her grandmother, Cloreen Springer, said she was at the hospital when the doctors told her that Halley was not going to make it and that she should stay with her for the last.
"I ask her 'Tonika you mean to tell me this is it' and she just keep coughing up blood and was not responding… she breathe like two times very hard and that was it. They said they tried but she had severe injuries," the grandmother cried.
The family said Halley was a "mannerly and respectful person," and it is quite unfortunate that she died so young, leaving her one-year-old daughter behind.
"The child will be ok, we will take care of her as a family, it was just last week she celebrated her daughters first birthday and now this. This is very hard for us because we are unable to even sleep; but she gone and we just have to hold up," the dead woman's uncle said.
The bodies of Gritten and Halley were taken to Lyken's Funeral Parlor awaiting a post-mortem.
Meanwhile, the vehicle that was involved in the accident is lodged to be examined by a Licence and Certifying Officer.
The driver remains in custody and he is assisting with investigations. A breathalyser test was conducted but there was no trace of alcohol in his system. Police are continuing their investigations.