…cites importance of traditional sectors being boosted
With Guyana being rated as one of 2019's top oil producers, part of People's Progressive Party/Civic (PPP/C) candidate, Dr Vindhya Persaud's pitch to voters during Sunday's rally at Albion dealt with the Party's vision for using this oil wealth to transform Guyana for the better.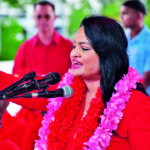 During her address to Party supporters, Dr Persaud stressed the importance of not just focusing on oil but other job retentive sectors. According to the former Member of Parliament (MP), should her party win the elections, oil will be a catalyst to overall sectoral development. In making her pitch to potential voters, Dr Persaud also spoke of challenges faced in various sectors.
"We live in a country where we are people of all walks of life and have so many needs. And our needs have not been met. There is a paralysis in the agricultural sector; there is a paralysis in the health sector. And we've seen a spiral in the overall productivity in this country.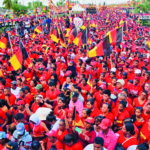 "We must ensure monies are spent to improve every sector. Money from the oil wealth that we will gain will be moved to every one of these sectors to ensure that there is no starvation of sectors like mining, agriculture, and the others. We will ensure that every sector is developed. When oil comes, that's not the be all and end all!"
She also made reference to the closure of the sugar estates and the economic and social hardship it has brought to some families. According to Dr Persaud, when this is considered, then the choice of her party is clear to voters.
"Whether we speak of programmes for women or anything in this country, we have seen it go downwards. When we think of the PPP/C and their tenure in Government, where did we go? Upwards. There are a lot of single mothers here. There are a lot of women and families who struggle to put bread on the table for their children.
"They have to think; how do we supplement their families' income when their husbands are on the breadlines. And you in Berbice know exactly what I'm talking about. (Thousands) were just dismissed, just like that. No thought given to them or their families or children."
Mention was also made by Dr Persaud of the candidate list the PPP has been able to put together, noting that the candidates were drawn from all walks of life to campaign with the PPP ahead of the March 2 elections.
Since ExxonMobil discovered oil, estimates have put the amount of money Guyana will earn in the range of billions of US dollars. Of course, there have been questions over how this money will be spent to directly improve the lives of ordinary Guyanese.
Previously, the then PPP/C Administration had implemented a direct cash transfer system in the form of the "Because we care" grant, which saw hundreds of thousands of households collecting a $10,000 per child education cash grant.
The initiative was scrapped when the coalition Government entered office.