The Hilbert Foster-led administration of the Berbice Cricket Board (BCB) has hosted numerous tournaments in 2019. However, of some 25 tournaments planned for staging in 2020, only 12 or 13 would be staged, because the global coronavirus pandemic has found itself on these shores.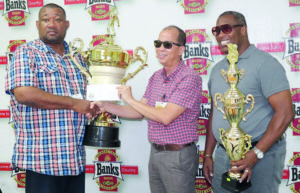 Despite the bad news, however, there is still hope. A former official of the BCB had made contact with BCB President Hilbert Foster to inform of his interest in sponsoring a second two-day first division tournament for cricket clubs in Berbice.
BCB are currently working on a proposal to respond to this prospective sponsor, but it must have his consideration and approval.
The BCB believes this impending sponsorship is very good news, because several major sponsors are expected to cease sponsoring cricket in 2020 because of the COVID-19 pandemic. One major sponsor of first division cricket has already informed the BCB that the entity's sponsorship would continue only until 2021, and sponsorship for this year would be skipped.
The Hilbert Foster-led BCB is assuring all that it would be working very hard to host at least twelve or thirteen tournaments in the year, as it would be impossible now to fulfill plans to host at least twenty-five cricket tournaments.