A joint operation between the Guyana Revenue Authority (GRA) and the Customs Anti-Narcotics Unit (CANU) at Line Path Section E Skeldon, Corentyne, Berbice, on July 1 led to the discovery of at least 168 ecstasy pills at a residence.
CANU in a release stated that on July 1, 2022, CANU and GRA enforcement officers, conducted a joint operation at the residence during which the pinkish pills were found.
As such, 38-year-old Keisha Angel, who resides at the address, was arrested. The 168 pills, when weighed, amounted to 94 grams with a street value of $260,000. She is expected to be charged shortly.
Back in January, the drug enforcement body had destroyed 3.1 kilograms of ecstasy pills that were confiscated in Region Four (Demerara-Mahaica) in 2021. The presence of ecstasy pills continues to be a challenge for CANU since these illicit pills are now ending up in schools.
In 2019, Police uncovered an organised ring, the players of which were engaged in trafficking of the date rape drug ecstasy by utilising school-age girls in the trade. This had come to light after a Stewartville Secondary School girl had gone missing. But to date, small portions of drugs, including cocaine, are being intercepted in schools.
In June, it was reported that a 12-year-old female student of a school in Bartica, Region Seven, (Cuyuni-Mazaruni) was found with a quantity of cannabis concealed in her socks while attending classes.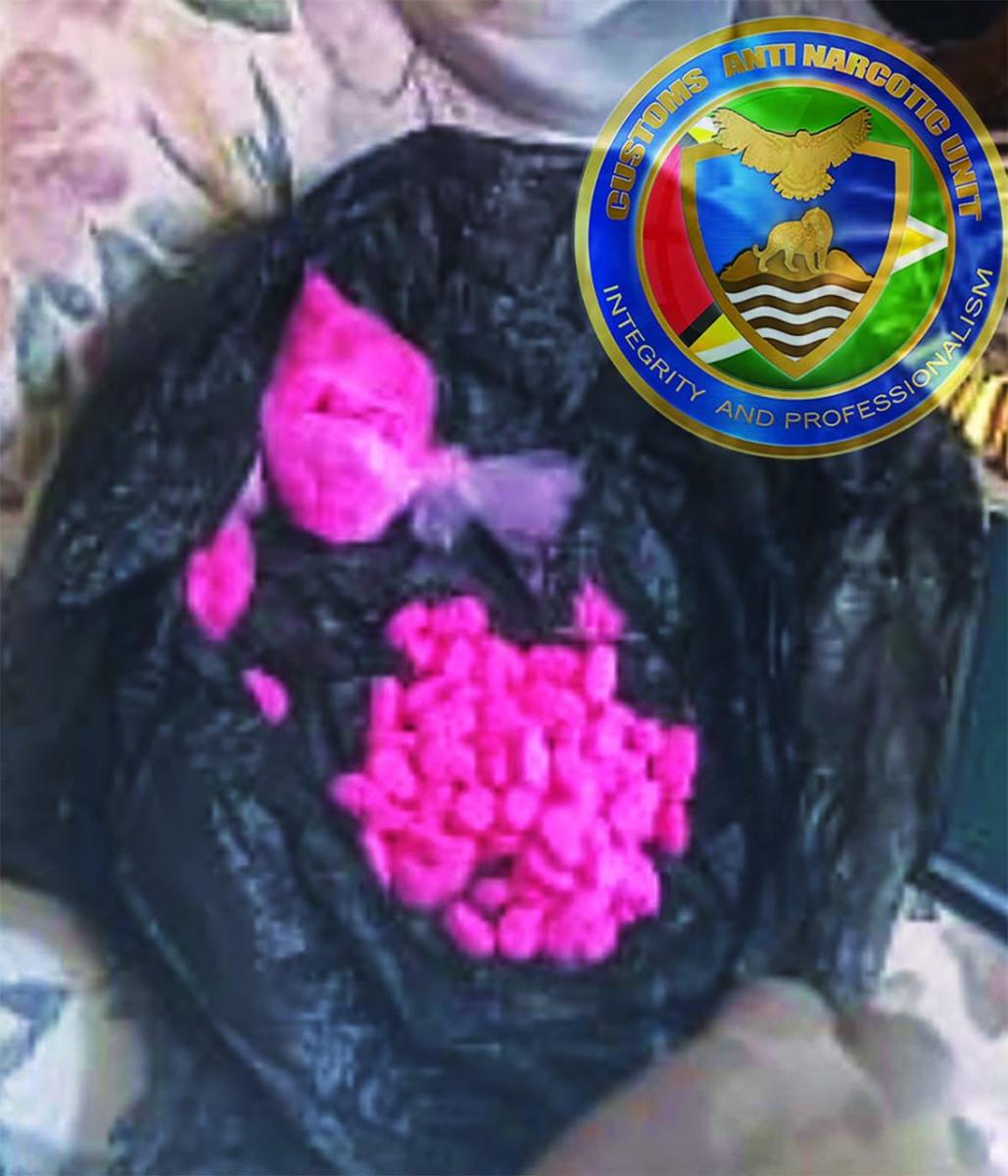 The Head Teacher had reportedly received complaints that students were in possession of ganja in class, and this prompted her to carry out random checks, during which she unearthed two transparent Ziplock bags containing the cannabis hidden in the student's socks.
Upon being questioned, the student revealed that she got the drug from a female classmate, who claimed to have stolen it from her father.
When contacted, the father in question admitted the narcotics belonged to him, since he would indulge in smoking "weed".
The students were questioned and were scheduled to meet with the Child Care and Protection Agency. The father was questioned by the Police.
Only recently Head of the Customs Anti-Narcotics Unit (CANU), James Singh, stated that CANU would be working closely with other sectoral agencies and the Education Ministry to tackle the issue of illegal drugs making their way into schools.
Singh noted that his unit has welcomed the collaboration with the joint services to ensure that the schools are rid of drugs, especially ecstasy pills. In the past, those pills have been found in secondary schools.
Singh had stated that several new types of drugs are surfacing in society, and CANU would make every effort to get rid of them before the situation escalates.