The body of 29-year-old Richard John of Mimi Dam Angoy's Avenue, New Amsterdam, who went missing when a boat submerged in the Canje River on Friday evening was on Sunday pulled from the river.
The body was found at about 17:00h on Sunday in the vicinity of the incident site. After the discovery, the body was identified as that of John by his brother Dennis John, the captain of the boat at the time of the mishap.
The search is still on for Shellon Williamson, a 27-year-old mother of three who was in the vessel at the time of the mishap.
It was reported that on Friday at about 20:30h, just off the Canje Bridge, the boat with the captain and three passengers started to take in water and eventually sank.
The captain and his two brothers were able to swim to safety and after realising that Williamson was left behind, the now dead man returned to the boat but was not seen until his lifeless body was discovered floating some 34 hours later.
Reports are that the Coast Guard intercepted the boat and tied same to a pontoon which subsequently started to sink. As it went down, it pulled the boat with it causing it to capsize and take in water until it submerged.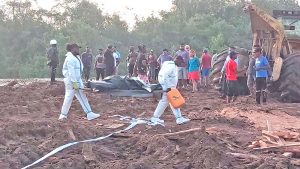 The captain subsequently related that he was asleep and was awakened by Williamson, who told him that there was water in the boat.
At that time there was more than one foot of water in the vessel. Efforts were made to bail the boat but it was taking in more water. As such, the boat was abandoned as the men swam to shore, leaving behind Williamson who could not swim.
On Saturday, Williamson's mother, Donna Ceres, told Guyana Times that she was still hopeful that she will find her daughter alive.