Oil & gas
— former Alberta Premier
While consultations and lectures on oil and gas are ongoing, there is a need for more people to be involved in the dialogue. In addition, breaking down technical information, such as safeguards against environmental risks, is important to overall consultations.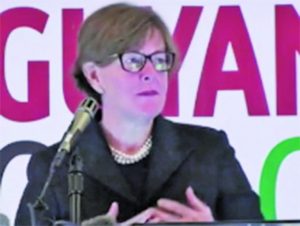 This is according to the former Premier of Alberta, Canada, Alison Redford, QC, who was among the presenters at the inaugural Guyana Oil and Gas Association (GOGA)-sponsored conference and exposition over the past few days.
She advised that policy makers take time to ensure that all pertinent information be above board and is understandable to the nation. "When you understand an issue well, you think that everyone understands it as well as you. And I'm telling you, speaking as someone who is not an engineer or a geologist, that there is really technical information about environmental impact and production that the public wants to understand.
"And I'm sure (that) over the future, there will be lots of people who will stand up at public meetings and ask you questions that seem absolutely ridiculous to you, cause it seems so easy. So I would encourage you to take the time to build a foundation so that everyone can be a part of the discussion," she advised.
She noted that the public will have concerns because they care about their community, and may have unanswered questions based on what they read in the newspapers and on social media. Redford pointed out that other countries were late in having these frank and encompassing discussions, to the detriment of public relations.
She said that Guyana has the opportunity to do better because the populace is capable of exchanging ideas and partly because of the GOGA-backed seminars. Redford observed that GOGA understands who needed to be a part of the conversation.
"Political leadership will need to decide what they believe Guyanese want for policy choices. That gap between where political leadership makes the policy and what the rules say can takes different terms. I would suggest that creating the policy is one of the most dynamic and important conversations you can have; but once that policy has been set, I've certainly seen the development of rules being more successful when everyone has been involved all along," she declared.
According to Redford, it was not possible for technical experts to develop and set a framework without a different type of engagement with the public. Using Peru as an example, she explained that while policy makers might think their consultations were extensive enough, misinformation can hamper relations at the community and stakeholder level.
"Peru has a wonderful set of legislation with respect to consultations with indigenous people. But at the end of the day, they have pipelines in northern Peru (that leaked) that they couldn't repair because the community does not trust Government enough to (allow Government) come in and fix those leaks."
This is a reference to Peru's declaration of a state of emergency last year after a pipeline owned by state oil company Petro Peru spilled 3000 barrels of crude oil into rivers. These rivers were a major source of water and food for some indigenous communities.