– former Deputy Commissioner distances self from Ashmin's fiasco
Data clerk attached to the Guyana Elections Commission (GECOM), Enrique Livan, who has been embroiled in much controversies in relation to the March 2020 General and Regional Elections, on Monday opted to remain silent when he appeared before the ongoing elections Commission of Inquiry.
At the beginning of the continuation of the elections COI, Livan was called to the witness stand. When reminded by commissioners that his right to remain silent is a constitutional right Livan, who is being represented by Attorney-at-Law Eusi Anderson, invoked that right and departed the stand without testifying.
Livan's name has been repeatedly cited during the course of the COI over the past weeks. The Data clerk, who is already facing a number of elections fraud-related charges regarding the 2020 elections, was involved in the infamous flash drive incident at GECOM Command Centre in the Ashmin's Building at the corner of High and Hadfield Streets, Georgetown.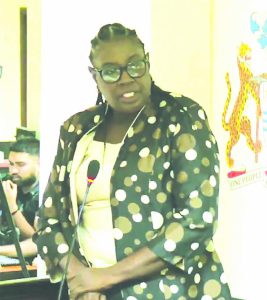 He was embroiled in controversy for leaving the main tabulation room with a laptop during the verification process for Region Four. He has also been accused of working along with others to unlawfully inflate figures from the 2020 polls to sway the elections in A Partnership for National Unity/Alliance For Change's (APNU+AFC) favor.
A number of persons, who have been slapped with similar charges as Livan, have already exercised their right to not give evidence during the COI. These persons include former Region Four Returning Officer Clairmont Mingo, former Chief Elections Officer (CEO) Keith Lowenfield, and former Minister of Health Volda Lawrence, among others.
TSU
Meanwhile, former Deputy Commissioner in charge of Operations, Maxine Graham, was also called to the stand on Monday. Unlike Livan, she willingly testified. However, during her testimony, she contradicted testimony previously given by the likes of former Region Four Commander, Assistant Commissioner of Police Edgar Thomas.
In November of 2022 when Thomas was called to the stand, he testified that on March 5, 2020, Graham told him that everyone, including party representatives and GECOM Commissioner Sase Gunraj specifically, should leave the GECOM command center in Ashmin's building. This is even though the official Statements of Poll (SOP's) were in the building.
Thomas also testified that on March 5, 2020, he heard embattled former GECOM Deputy CEO Roxanne Myers, on the phone with Graham complaining that police ranks were not clearing Ashmins building fast enough. But when her alleged involvement in the March 5 fiasco was put to Graham on the stand, she vociferously denied Thomas' testimony in both instances.
"That is untrue. A total untruth. We (Graham and Thomas) had no discussion about (safety of Statements of Poll) … Miss Myers never spoke to me on that day… not true. That is totally untrue. In what form? Did she write (to complain)? That is untrue," Graham said.
Graham further testified that even though she was in charge of police operations, she had no knowledge of what Target Special Unit (TSU) ranks were doing at Ashmin's building on March 5. She said it was only a day or two afterward, that then Commissioner of Police Leslie James had revealed during a meeting with his subordinates that it was he who ordered the police to Ashmins.
The former Deputy Commissioner also testified that it was she who complained to James that she had been unable to reach Thomas on his cell phone throughout most of March 5, even while Ashmins Building was being overrun with persons.
She said that when she subsequently got on to him, he was in his office and she had ordered him to go to Ashmins. Graham claimed that following her complaint to James, the Commissioner told her to convey to Thomas that he would be relieved of his duties.
Last week, James confirmed that he had Thomas reposted to patrol duties because he could not have been contacted on March 5, among other things. James also claimed during his testimony that he never instructed the TSU ranks to clear the building but rather to "secure" it, implying that the TSU ranks went rogue on March 5.
The CoI resumed its work in the New Year last week Wednesday after nearly a month-long hiatus. The public hearings will continue today with another witness who was summoned set to take the stand.