2022 was quite the successful year for the National Sports Commission (NSC), according to Director of Sport (DoS), Steve Ninvalle.
The Director of Sport made this revelation during a chat with Guyana Times Sport last week.
Atop the list of the NSC's major achievements in 2022, of course, is the implementation of the Sports Academies for Guyana's 12 core sports; but Ninvalle has also placed value on the relationships established with sport associations across the country.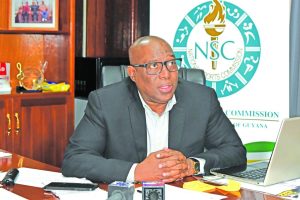 "If it's one thing that stands out in my mind as Director of Sport, I think it would be the fact that we were able to start the academy. The academy has had a great impact on sport and the direction of sport in Guyana. But even though we were able to start that and it will continue, we were also able to reach out to 1) the 12 core sport disciplines and 2) every other association," Ninvalle reflected.
He continued on the topic of establishing meaningful relationships with sport associations, "I'll tell you what, it's the first time, I think, that associations enjoyed or were able to have this sort of accessibility. The National Sports Commission has been extremely accessible and we've been extremely generous to associations. What that did, it allowed associations, whether local or overseas, to breathe with a little more ease and from the desk of the Director of Sport, I would want to say that we did extremely well."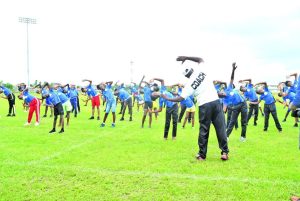 Still on the topic of engaging associations, Ninvalle went on to explain to this publication why the NSC's relationship with associations was important and how he intended to improve on such this year.
"There's a lot of work that we'll be doing, but the most important thing for me is that we've established such a relationship with all associations, that the associations now feel comfortable that they can come to the National Sports Commission and say 'hey, we have an issue, how could we work to rectify that? And I'm saying this with associations across the board."
Ninvalle further stated, "We've been extremely generous and we expect to continue being generous with the associations. Of course, they have their part to play also, in making sure they're accountable and we've been having continuous conversations with them. Because for some people, this is new for them."
Turning his attention to plans for the months ahead, the Director of Sport went on to share several that the NSC and Government were focused on for 2023, including the laying of synthetic tracks in Regions Six and 10 and mini sports halls across the country.
Ninvalle divulged to Guyana Times Sport, "2023, we have a lot of things planned. You know, we would have started works at the track in Linden and in Region Six. More work will continue in 2023, we've done the asphalting in Region 10, the asphalting of Region Six is expected and also the laying of the synthetic material. We already have that synthetic material."
"Government is building mini stadiums, all-purpose facilities like Sports Halls in several regions that I think is being built to the tune of $80 million each. That'll say that sport can be held in all of these regions in a comfortable environment," he further disclosed.