By Michelangelo
The "Coolie Bully" Elton Dharry will return to the "Land of Many Waters" today as the Guyana Boxing Board of Control's (GBBC) January 20 International Card "Sangre Malo" looms closer.
The designated arena for the monumental card which features six bouts is the Cliff Anderson Sports Hall (CASH); this is the first time in two years that boxing will return to the venue.
Thirty-two-year-old Dharry dubbed the "Coolie Bully" because of his tenacious and menacing fighting style began his career in the squared circle in 2004 at the Cliff Anderson Sports Hall. His first fight was against Mark Rodrigues which he won on a unanimous decision; since that first fight at the venue, Dharry has returned to fight at the Sports Hall six times of which he came out victorious on all occasions.
Dharry has a special affinity for the Sports Hall and come January 20 he will be representing home turf against Venezuelan Jesus "Gazu" Vargas; fans are guaranteed fireworks from the bantamweight clash as Dharry is undefeated in his last 18 fights dating back to 2010.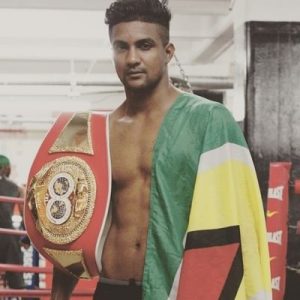 The last opponent to be bullied by Dharry was Dominican Republic's Samuel Contreras in 2016 while Vargas record a win against Over Morales in Venezuela last September.
The Guyanese bantamweight currently holds the WBC Caribbean (CABOFE) Bantamweight Title, Guyana National Bantamweight Title, IBF Intercontinental Title and WBU Americas Bantamweight Title.
Dharry's record is impeccable and stands at 21 wins, five losses and a draw, 16 of his victories came by way of knockout and he will be looking to make it 17 against Vargas. Meanwhile 25-year-old Vargas has 16 wins, 10 losses and a draw with 12 of those victories by way of knockout.
The "Sangre Malo" card which translates to 'Bad Blood' includes a heavyweight clash; James Moore who will "cuff it out" with fellow countryman Sherwin Clarke.
Added just earlier this week to the card was a Junior Welterweight clash between Guyanese Anson Greene and Barbadian Keithland King. The headliners of the card include Guyanese lightweight champion Dexter "Cobra" Gonsalves taking on Venezuela's Felipe Larez Barcelo, while flyweight champion Dexter "The Kid" Marques clashes with Dionis Martinez Arias (Venezuela) in the co-main event.
Trinidadians Sheldon Lawrence and Shawn Corbin are also set to duke it out for the WBC Fecarbox Light Heavyweight Title in the other co-main event on the night.
With the monumental fights just a week away Gonsalves and Marques are currently training together albeit under different coaches; Caribbean Lightweight title holder Marques is being conditioned and prepared for the fight by Lennox Daniels while Seabert Blake has charge of Gonsalves.
Both boxers have expressed their desire and drive to "punch" Guyana back on to the map in the world of boxing and shared similar sentiments about training together noting that a unified front is integral to success come January 20. Tickets to the "Sangre Malo" card which is organized by the Guyana Boxing Board of Control (GBBC) in association with MCG Inc's cost $4,000 for VIP, $2,000 for Ringside and $1,000 for stands; they are on sale at the Giftland Stores and Assuria General Insurance offices in Georgetown, Diamond, Berbice, Parika and Vreed-en-Hoop.