The Eagles U-23 in their bid to better their chances at any upcoming basketball competition in 2020, defeated the UG Trojans U-23 side and swept the 3-match series, 2-1, by winning the final game 73-65, at the Cliff Anderson Sports Hall.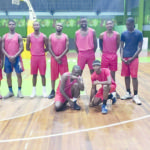 The night before, the senior Eagles squad levelled their three-match series against the Trojans 1-1. Riding on the back of determination and inspiration, the Eagles U-23 unit dug deep and flexed their muscle against an unfortunate Trojans to take the series.
From the opening quarter, the Eagles signalled their intent by outscoring the opposition 18-8. In their previous two games, both first quarters were closely contested, however, the final game saw a more confident Eagles squad emerging.
The Courtenay Taylor-led side continued down the same lane in the second quarter and outscored Trojans 13-8. At half time, the Eagles led 31-14.
In the third quarter, the Trojans made a few necessary substitutions that somehow managed to pay off as they won that quarter 30-19, to bring the game back in the balance.
Eagles still held the upper hand with the score at 50-44 when the final quarter commenced.
It seemed as though the Trojans gave their all in the third quarter, since a charged Eagles side comfortably took the last quarter 23-21 to end the series on a high note.