Blairmont CC Awards…
Long-serving Secretary/CEO of the Rose Hall Town Youth and Sports Club (RHTYSC), Hilbert Foster, on Thursday last issued an appeal to young cricketers at the Blairmont Cricket Club (BCC) to develop a "culture of hard work, dedication and positive attitude if they can, to have a successful cricket career".
Addressing the Blairmont players in their Community Centre's Main Hall, Foster told his attentive audience that success is achieved only by hard work and robust effort. He advised that there is no short cut to glory; players desirous of becoming good batsmen MUST concentrate on batting, and MUST work hard on correcting faults; while bowlers MUST spend hours in the nets working on variety and pace.
He said players like Basil Butcher, Rohan Kanhai, Roy Fredericks and Alvin Kallicharran all came from humble beginnings; but, determined to succeed against all odds, they worked hard to fulfil the dream of playing cricket at the highest level.
Foster spoke extensively on the formula youths should use to be successful in life. That formula entails getting a proper education, refusing to become involved in the use of drugs and alcohol, respecting parents and authority figures,  having complete faith in God, avoiding engagement in criminal activities, choosing friends wisely, and always aiming for the sky despite the challenges faced.
Foster also urged the Blairmont players to develop a culture of assisting others. He said no matter how poor one is, there is always someone poorer than one.
He especially advised youths to avoid friends who encourage them to follow the evil ways of Satan. True friends, he stated, encourage you to fulfil your dreams; to serve the God you believe in; and to say NO to drugs, crime, suicide and alcohol.
Foster, moreover, urged the large gathering of parents to not only support the outstanding work of the Blairmont Club, but to always strive to be the best possible role model to their children. He urged parents not to consume alcohol, curse, or use illegal drugs in front of children; but to make sure they inspire their children to fulfil their potential in sports, culture and education.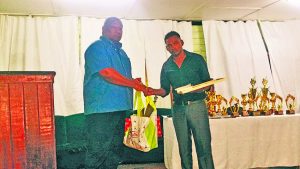 The former Chairman of the Berbice Cricket Board's Special Events Committee pleaded with cricket administrators to always put the interest of the cricketers first. He said administrators are there to serve the cricketers, and not to seek personal glory or to benefit from serving youths.
Calling on leaders to be more visionary, he noted that cricket administration is not only about organising matches, but also to make sure that every young cricketer understands their role as a representative of Berbice, Guyana, the West Indies, and their status as a positive role model.
He committed the RHTY&SC to continue playing a major role in Berbice, and noted that the Club would always be a friend of Blairmont Cricket.
Under its Cricket Development Programme, the RHTY&SC has donated three trophies, twelve cricket medals, youth information booklets, and some gifts to the top Blairmont cricketers. The RHTY&SC, M.S, had in April also assisted the Blairmont Club with balls, bats and cricket stumps.