Withdrawal of garbage service
…as unemptied bins left on city streets
Residential and commercial areas across the capital city have been piled high with garbage, creating a disturbing scene, just days after City Hall's two major solid waste collectors withdrew their services.
A check by Guyana Times around Georgetown revealed bags of garbage at the corners of the roadway next to stacked bins and boxes, awaiting removal.
In Alexander Village, residents decried that their garbage bins were not emptied since the two collectors – Puran Brothers Disposal Services and Cevons Waste Management – pulled their services last Monday. At present, they are asking when will the refuse be removed, as it is distasteful to look at. Furthermore, they have nowhere else to place to bags but to leave them on the corner of the streets.
Shanaz Ally told this publication, "We were waiting for them to come since the beginning of this week. As you saw, the bins running over and we have to put the garbage in bags now and line them up until they come."
Ally explained that since her community is on the outskirts of Georgetown, they have been neglected by the Council when it comes to the provision of garbage disposal services.
Additionally, in Central Georgetown, key enterprises and prominent locations also faced the brunt of City Hall's incapability to meet these demands. Water Street was lined with black garbage bags filled with unwanted waste at almost every business.
With the obvious possibility of rodents and vermin being attracted by the garbage pile up, customers also found it difficult to conduct their transactions, as they were forced to manoeuvre between the bags to access the stores during the busy Christmas season. Many persons with large shopping bags complained about this build-up of waste.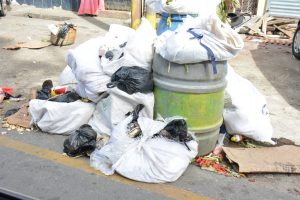 At Orange Walk and Bourda – streets within the capital city – a similar scenario was observed where one consumer said, "We moving from a Garden City to a Garbage City. The garbage piling up, we have no garbage trucks to pick it up and it growing more and more."
Guyana Times was informed by the Solid Waste Management Director of City Hall, Walter Narine that small contractors would take up the mantle of the routine collection. For this, many have voiced their concerns that maybe this process is not moving effectively to eradicate waste from Georgetown.
Earlier this week, vendors at Bourda also complained about a slow collection process, as they are forced to wait prolonged intervals before the garbage is removed from their immediate surroundings.
While speaking to this publication on Wednesday, cries were heard about the time which they have to wait before the refuse is being removed from the Orange Walk, Bourda, dumping area.
"In this rain we got garbage piling up and nobody to pick it up. It frustrating cause the thing creating a scene and going over to the roadside," said Shelley (only name provided).
It was indicated that the slow garbage collection has left a stench in the area which is even worse during the rainy days. Later on Wednesday, some of the garbage was placed in large disposal bins but the vendors are contending that there will be no collection for several days.
"They just collect it today cause we keep raising the issue so like we got to keep doing this until they come. I live in Georgetown and they supposed to collect garbage but some days I got to bring it here in garbage bags for them cause they don't even come to my house."
Last Monday, both collectors withdrew their services after being owed over $160 million. City Hall had assured that garbage collection services would be provided by five smaller agencies; namely Granderson, Trash Tech, Tri Star, C&S Services and Garbage Eaters.
In a statement last week, City Hall officials admitted that they remain cash-strapped and therefore cannot dispense the money owed to the garbage collectors. (Rupadai Seenaraine)