By Brandon Corlette
Bartica is not a well-known area for cricket but Guyana female player and West Indies Women prospective player, Kaysia Schultz is making this change in Region Seven, Cuyuni Mazaruni.
This young cricketer brings joy to her hometown as she continues to climb the cricketing ladder. Born in the festive town of Bartica on April 17, 1997, Schultz spent her childhood days there before moving to the city when her brother passed away.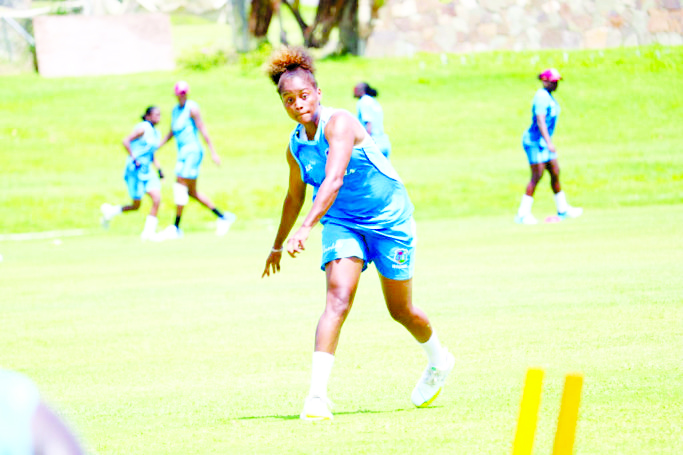 At a tender age of 10, Schultz found her love in cricket, while attending school and plying her trade. During an interview with Sunday Times Magazine, Schultz, who is fresh from a stint in Trinidad and Tobago where she played female franchise cricket in the Christmas season, stated that her journey in cricket began in the backyard and along the streets where she gained an introduction to the game.
"I started to play at a very tender age off of my own, it's a given talent and as I started school, cricket led me to meeting so many people that led me to my destination where I am currently at. It used to be backyard cricket and playing alongside streets, if not I'd find myself with a ball constantly tossing it to the wall catching and so on for multiple hours", Schultz stated.
The left-arm spinner who bats right-handed played for both Guyana senior and junior female teams. She took her game to the next level in cricket when her friend and National teammate, Lashauna Toussaint advised her to join the cricket club GNIC where the hardball cricket all started.
Schultz had found it difficult in the early days as her parents didn't want her to play cricket at the inception.  "It was very difficult after all not even my parents had wanted me to play in the streets so normally I would sneak out and just to go and play wherever the boys were playing. After that, I had many scolding and it never stopped me", Schultz disclosed.
In 2019, Schultz had the opportunity in multiple training camps for the West Indies Women. At first, Schultz explained that she had never known of females playing hardball cricket, and it's difficult for females but hard work and determination will get the job done. Reflecting on her good year on the field, she recalled her best bowling figure; five-wickets for two runs when she represented Demerara at the inter-county level.
Orin Bailey, Bharat Mangru and Ryan Hercules were some of the coaches that helped Schultz along the way. "They have helped me in every little area of my game, and I must thank my parents for being there for me at every moment", Schultz disclosed. Reflecting on her maiden call-up to the West Indies set-up, Schultz stated that it's a learning process.
"Well, every day is a learning process for me. I was happy for this opportunity to go and learn more and learn really fast. I'm utmost dedicated naturally from within to go and do my best at the very best of my ability", Schultz explained. As the 2020 cricket season looms, the young left-arm spinner is seeking to make great strides after a productive 2019.