Protocol passes controversy
…airport in talks with Foreign Affairs Ministry over security concerns
…maintains no breaches occurred
Amid reports that the Ogle Airport Inc (OAI) breached security protocols and failed to include a protocol pass system in its manual to the Guyana Civil Aviation Authority (GCAA), the management of the airport has revealed that the Foreign Affairs Ministry has been engaged on the matter.
Speaking with Guyana Times on Friday, OAI Public Relations Officer (PRO) Kit Nascimento explained that there has been no communication between the Airport and the GCAA Director-General, Egbert Field as it related to authorisation.
However, a representative of the GCAA would have facilitated discussions with the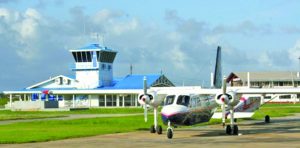 Foreign Affairs Ministry to have the matter resolved. Nascimento also maintained the company's previous statements that no security breach occurred at the Airport.
"The Director of Civil Aviation has not been in touch with the Airport about any sanctions whatsoever. The Airport stands by its original statement that the Airport has not committed any security breach. We are already in discussion with the Ministry of Foreign Affairs and with a representative of the Civil Aviation Authority on this matter and we're moving forward together on it," Nascimento said.
The GCAA ordered that the Eugene F Correia International Airport stop issuing protocol passes after former parliamentarian Charrandas Persaud was escorted by a Canadian Embassy security officer to a Barbados-bound plane after he sought help from the embassy following his favourable vote during the no-confidence motion on December 21, 2018 which saw the Government of Guyana being defeated.
Persaud was escorted to the Airport and boarded a plane bound for Barbados and later Canada.
Following what the OAI described as "erroneous reports in the State media" that there was a security breach, the administration of the Airport related that it was guided by its Airport Operations Manual, which was approved by the GCAA.
The OAI stated that Persaud was a passenger on LIAT flight #LI 392, which departed the Eugene F Correia International Airport at 06:17h on December 22, 2018.
The Airport authority stated that Persaud's escorts were Mission Security Officer of the High Commission of Canada, Richard Beliveau and Peter Ramsaroop.
According to the OAI, Beliveau presented himself and his Foreign Affairs Ministry ID Card to the Airport duty officer and requested a pass to accompany a passenger to the aircraft. The OAI stated that Ramsaroop also requested a pass saying he was part of Beliveau's team.
The Airport duty officer, in accordance with an established courtesy practice as is requested to be extended to diplomatic personnel by the Foreign Affairs Ministry, granted a protocol pass to both persons. The passes were duly returned in exchange for their respective ID documents on their departure from the Airport.