The Guyana Football Federation (GFF) is leaving nothing to chance in the new year, as it has already put together its calendar of activities for the 2022 year.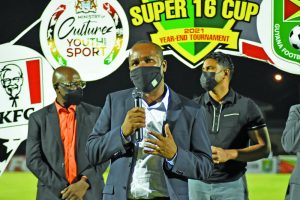 This was revealed by President Wayne Forde, who noted that the Federation is now in the consultancy phase, before it is able to get its events approved.
"I think we've already concluded our 2022 calendar of activities. We will continue to do what we've done in the past. We have to engage the Ministry of Culture, Youth and Sport and the Health authorities, including the National Task Force, to obtain the requisite approval to have those tournaments launched," Forde shared during a press briefing earlier this week.
"I believe the gazetted orders remain in place, and we have to operate in those guidelines," the GFF President added.
Additionally, Forde hinted at a major development for Guyana's football this year.
"The broader team is weighing in on that. There are opportunities that presented themselves that may influence how the 2022 calendar is rolled."
He continued, "And I think (that) as early as next week we'll be making some major announcement in that regard."
However, what may present itself as a stumbling block for the GFF is the recent Futsal final fiasco, which saw the Cliff Anderson Sports Hall being overcrowded for the GFF-Kashif and Shanghai- organized tournament.
In spite of this, Forde remains optimistic about the 2022 calendar, especially since the GFF has not stepped out of line before, with the exception of that Futsal event.
"We have had quite a few football events from the beginning of the COVID-19 restriction, which started in March 2020. From the 'bounce back' to the National team engagement and training, and I think we have a solid track record of being able to organise all of these events in the safest possible way," The GFF President explained.
"So, I do not see many difficulties in presenting those plans and seeing those plans play out on the field of play," he concluded.