High on the success of the ongoing Cricket Carnival initiative and coupled with the drive to diversify Guyana's sporting sector beyond cricket, President Dr Irfaan Ali has indicated that his Government plans to push sport as a major tourism product in the country.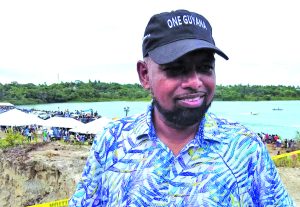 During the Cricket Carnival Regatta in Linden, Region 10 (Upper Demerara-Berbice), the Guyanese Head of State shared their plans of using all aspects of Guyana, and more importantly, sporting events, to the best of their advantage.
In turn, he expressed that building a holistic and robust portfolio from the different sporting events can create a significant tourism package.
"Our objective here is to build a tourism product with activities all around Guyana, using cricket carnival, our culture, our geographical space as advantages and making best use of the advantages and the competitive advantage each region has."
"What we want to do is build our sports tourism portfolio on many planks, not only cricket. We have cricket, horseracing taking on a new life by itself, the regatta, football, squash…We're looking to have all our sporting events become major part of our tourism product itself," Ali outlined.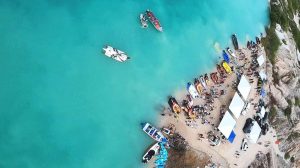 Activities such as the regatta, he noted, puts Guyana one step closer to achieving this target. On the other hand, the President divulged that the possibility of having F1 powerboat racing is also being mulled.
"This is just the initial stage in building a masterpiece of a product. We're going to work with some international players also to have Formula One racing. The world is going now in terms of electric boats and next year, maybe the first world championship. We're working to see how and if we can be part of that. So, the whole objective is to build a product in this region and to showcase this facility."
The Head of State said there is the potential to transform the area into a high-end luxury eco-resort, and will create another tourism hub in that geographical location.
Part of the Cricket Carnival activities was the President's Cup last week at Rising Sun Turf Club, West Coast Berbice (WCB) – one of the anticipated horse racing events this year.
Another horse meet will be held on October 23 at the Kennard Memorial Turf Club, before the traditional Kennard Boxing Day horse meet is held on December 26 at the Bush Lot Farm venue.
In the cricket updates, President Ali announced last week that in keeping with Guyana's growing status as a regional destination and with the benefits of sports tourism in mind, the Government plans to build another stadium in the next three years.
According to the President, this will complement efforts to develop the Cricket Carnival product for Guyana, adding to the importance of the Government getting involved in sports development.
He pointed out that the Caribbean Premier League (CPL) must be seen as more than just an event but a platform for the Caribbean region to market itself globally. (G12)