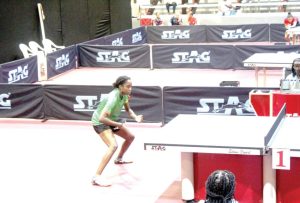 The Guyana senior men's tennis team have progressed to the main draw of the Central American and Caribbean (CAC) Qualifier tournament after placing second in their group. In their action, Guyana defeated Honduras 3-2 after winning the doubles. Shemar Britton picked up the first single and Jonathan Van Lange came back to win the deciding game.
The women's team of Chelsea Edghill OLY and Natalie Cummings defeated the Trinidad and Tobago pair 3-1, winning the doubles and winning their singles matches. Later on, they went down to Spanish powerhouse Dominican Republic. They now play Costa Rica for a place in the semifinal of the tournament.
Both teams have qualified for the CAC Games, to be held in San Salvador in June of this year. This was the first of a few objectives of GTTA coming into this month of table tennis action.
Commenting on this, GTTA President Godfrey Munroe stated, "This was the ultimate goal, qualifying for these Games; the focus now is on placement for the remainder of this tournament.
The performance is a good precursor in preparation for the Senior Caribbean tournament and other engagements for the teams."
The Men's Team comprises Shemar Britton, Jonathan Van Lange, Joel Alleyne, Elishaba Johnson and Paul David. The Women's Team comprises Chelsea Edghill OLY, Natalie Cummings, Priscilla Greaves, Thuraia Thomas, and Jasmine Billingy.
The qualifier will conclude on Sunday 19th March with the semifinals and finals, beginning at 16:00 hrs.
The tournament is streamed on the official Facebook page and YouTube channel of the GTTA from 10:00hrs.