– Region 10 boosts efforts to curb spike in cases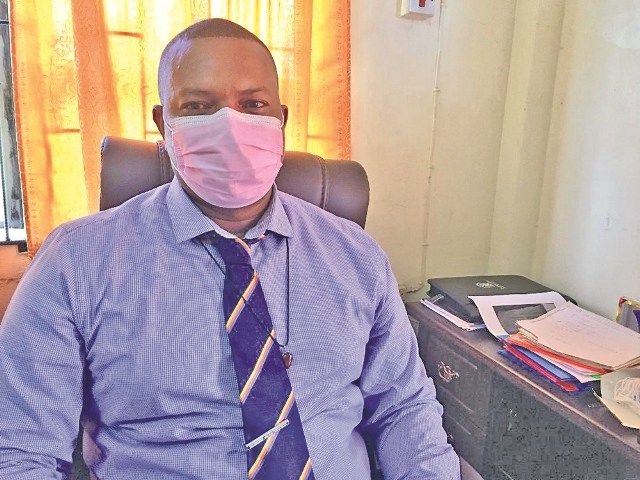 The Health Ministry on Sunday reported that Guyana recorded 43 new COVID-19 cases within a 24-hour duration.
According to statistics, the new cases have now taken the total number of confirmed cases in Guyana to 7982 – 4146 males and 3836 females.
However, only 836 of these cases are currently active. This includes five patients in the COVID-19 Intensive Care Unit (ICU) and the other 831 persons in isolation, that is, 51 institutional isolation and the remaining 780 in home isolation.
There are also another 14 persons in institutional quarantine.
In addition, the COVID-19 death toll in Guyana remains at 180, with the latest fatality recorded last Thursday when an 86-year-old male from Region Four (Demerara-Mahaica) died while receiving care at a medical facility.
To date, the number of persons who have recovered from the life-threatening disease has gone up to 6966 – four more than the figure previously reported.
Meanwhile, some 52,475 persons have been tested for the novel coronavirus in Guyana thus far.
Of the 43 new cases recorded on Sunday, three were detected in Region One (Barima-Waini); two in Region Two (Pomeroon-Supenaam); four in Region Three (Essequibo Islands-West Demerara); a whopping 28 cases in Region Four (Demerara-Mahaica), another four in Region Six (East Berbice-Corentyne) and two cases in Region 10 (Upper Demerara-Berbice).
The figures in the other four regions – Region Five (Mahaica-Berbice), Region Seven (Cuyuni-Mazaruni), Region Eight (Potaro-Siparuni) and Region Nine (Upper Takutu-Upper Essequibo) – remained the same.
However, the increase in active cases in Region 10 has regional authorities worried. In fact, Regional Chairman, Deron Adams recently disclosed that the administration has boosted its effort to curb the disease's transmission after the region's active cases increased to just over 20.
Adams recently told the Department of Public Information that while implementing an awareness and educational campaign saw a massive decrease in the numbers, that changed during the last few weeks.
To this end, the Regional Chairman urged residents to adhere to the guidelines outlined by the Ministry of Health.
"If the residents continue the way we are operating as though we are not in a pandemic, then we will have another spike in COVID-19 cases. We, at the administration, do not want that to be a reality," he said.
Recently, a staffer from the One Mile Health Centre tested positive, which led to the facility being sanitised. Adams said he had been concerned that other staff members may have been exposed to the disease, and they contacted the regional health officials.
However, Regional Health Officer, Dr Gregory Harris has given assurances of the staff's safety.
"This staff had indeed tested positive for COVID-19 and had to be in insolation for two weeks as outlined by the Ministry of Health. At this moment, there are no other positive cases from the health centre," Dr Harris said.
The RHO said his department would monitor the health centre and other health facilities closely to safeguard them. That includes intensifying testing capacity and distributing educational material about COVID and personal protective equipment (PPE) supplies.
Meanwhile, the RHO said there is no shortage of PPEs in the region.
Communities such as Aroaima, Canvas City, Central Mackenzie, Amelia's Ward, Half Mile, Wisroc, Three Friends Mines, Blueberry Hill, Kwakwani, Christianburg, Retrieve, Block 22, One Mile, Kara, Coomacka Mines, Wismar, and Silvertown are hotspots in the region.
According to the World Health Organisation (WHO), as of Sunday, some 105,394,301 confirmed cases were reported globally along with 2,302,302 deaths.
The WHO also reported on Wednesday that in the Region of the Americas, that is, Latin America and the Caribbean, the number of confirmed COVID-19 cases has increased to 46,913,216 while the death toll in the region has gone up to 1,092,521.