…PM says Guyana is open to helping evacuees from volcano-hit island
By Jarryl Bryan
Following a high-level meeting led by President Dr Irfaan Ali along with Prime Minister Mark Phillips and Vice President Bharrat Jagdeo, it has been announced that Government is aiming to dispatch a ship of aid to volcano hit St Vincent and the Grenadines within the next 48 hours.
President Ali was accompanied by Phillips and Jagdeo in an urgent meeting on Saturday with members of the Civil Defence Commission (CDC) and the Private Sector, to coordinate an emergency response to the fellow Caribbean Community (Caricom) member state.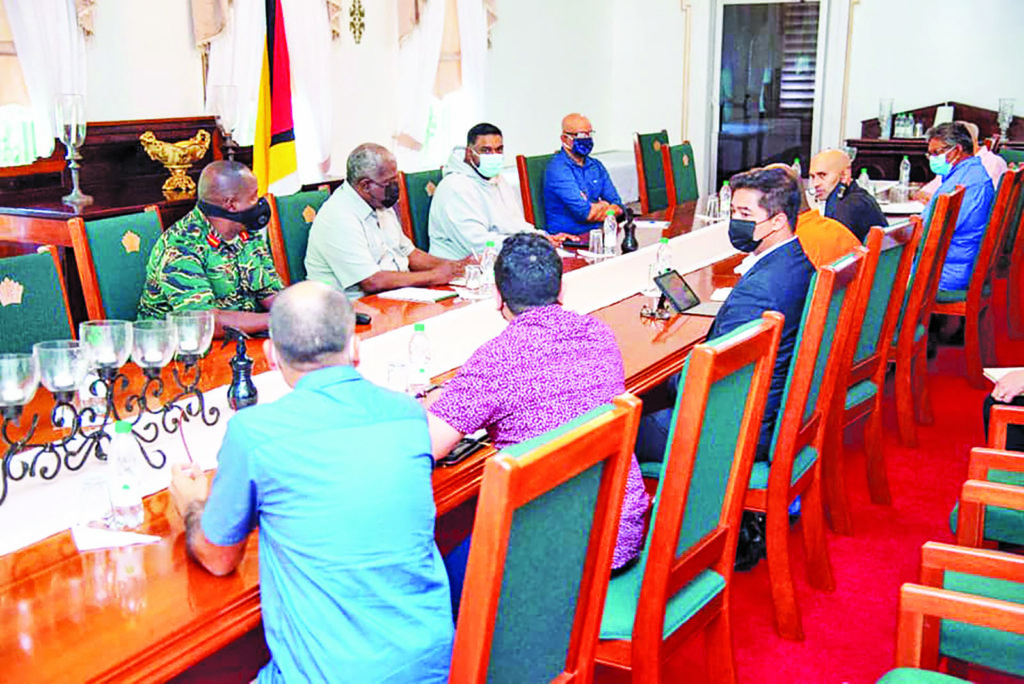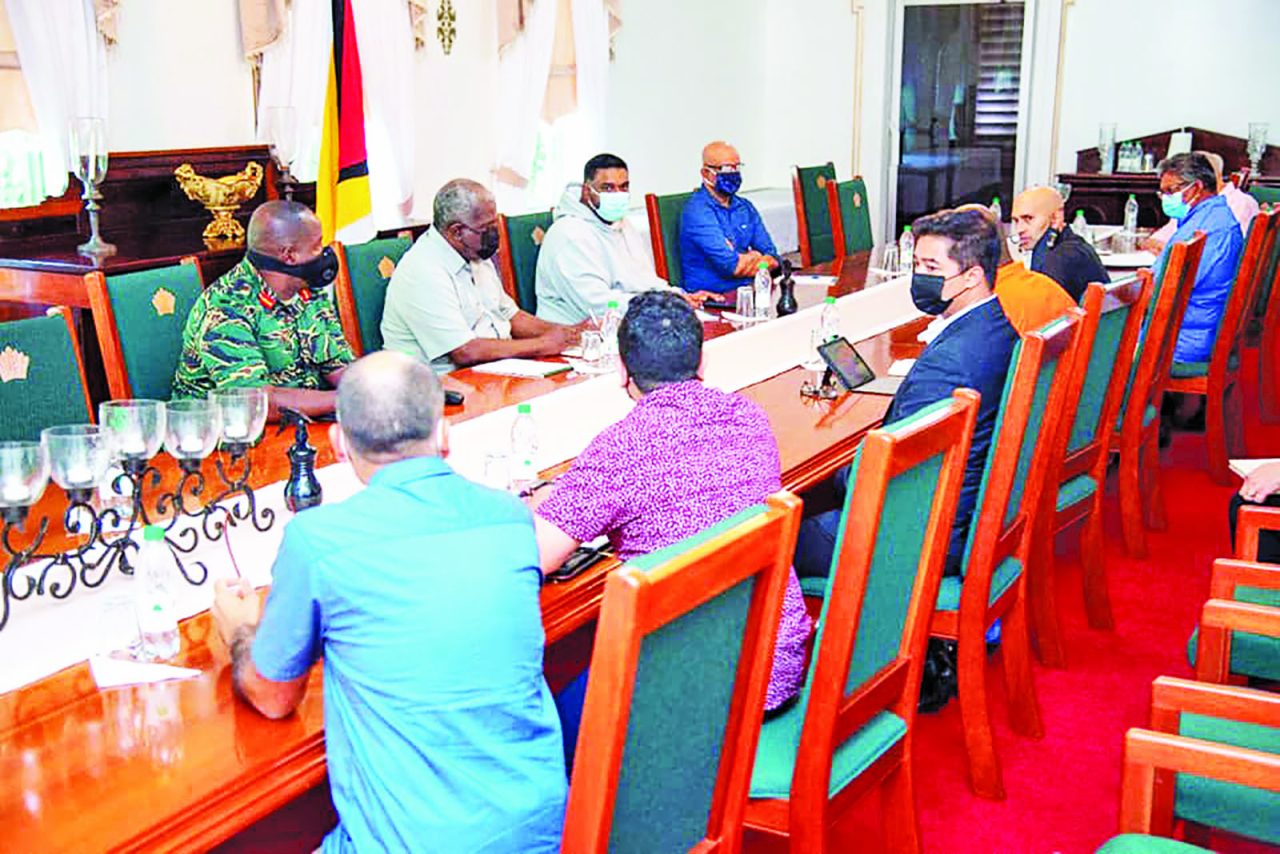 "The Caribbean nation is grappling with the effects of the eruption of the Soufrière volcano, which has severely displaced its residents, including a large number of Guyanese. Guyana is aiming to dispatch relief items over the next 48 hours. The team that met with the President this afternoon brainstormed the fastest possible route to the islands, as flying is prohibited."
"President Ali said that it is extremely important to get the items off and urged those present to put all systems in place to get it done in the fastest possible time. This emergency response is expected to be the first of many from Guyana," the statement from the Public Information and Press Services Unit of the Office of the President stated.
Another statement from the Office of the President disclosed that President Ali has been in contact with Barbados, which is just 118 miles from St Vincent and the Grenadines and thus, is expected to be affected by volcanic ash from their neighbour.
Director General of the CDC, Lieutenant Colonel Kester Craig added that the Commission will be working around the clock to acquire the needed items. So far, commitments have already been made to supply drinking water, personal protective equipment, hygiene and sanitation supplies, water tanks and shelter supplies.
"Banks DIH has donated water (5-gallon bottles to fill a 20-foot container), John Fernandes Limited has donated a 20ft container and a 40ft container (to ship items to St Vincent), and Gaico Construction and General Services has pledged two charter flights to the Caricom island," Craig noted during the meeting. DDL and several other big companies have also committed to donating items.
Guyana opening its doors to evacuees
Meanwhile, this publication had a brief interview with Prime Minister Phillips, during which he was asked about the Government's efforts to help St Vincent and whether consideration has been given to Guyana opening its doors to evacuees from the Caribbean island.
"There is a list of needs they prepared. We are in possession of the list and we're trying to put together assistance based on the items that they need and get it to them as early as possible," the Prime Minister said.
"The Government of Guyana is open to all options. If anybody wants to be evacuated as far as Guyana, the Government of Guyana is open to all forms of assistance. We're working with the Government of St Vincent. Based on their requests, we are ready to meet all forms of assistance," he added.
In an interview with this publication on Friday, President Ali had assured that all Guyanese living and working in St Vincent and Grenadines, where the La Soufriere volcano began erupting, are safe.
He had said that he has been in constant contact with St Vincent Prime Minister, Dr Ralph Gonsalves, while his Ministers are also reaching out to their counterparts in the island state.
"We've also been in contact with the Honorary Consul over there and he has assured us that the Guyanese over there are safe… He's coordinating, he's in contact with the Guyanese and he has assured that everything is okay," the President had related.
Support
As it is, there are several thousand Guyanese in St Vincent and the Grenadines. Guyana Times had spoken briefly with at least two Guyanese who indicated that they are safe on the southern side of the island and that most if not all Guyanese they know are also in that area which has been marked as a Green Zone as of now. When asked, President Ali told this newspaper that as of Friday evening there were no requests from any of the Guyanese in St Vincent to be repatriated.
In a joint statement on Friday from the Private Sector Commission (PSC) and CDC, it was noted that they are mobilising support for SVG, and are working to supply as many items as possible on the country's immediate emergency needs list.
Among the items required are: 1000 water tanks (800 and 1000 gallons), 5000 buckets (5 gallon), 10,000 folding cots, 150 portable toilets, 30,000 blankets along with 50 field tents (20ft x 20ft) and (910ft x 10ft).
Additionally, two field kitchens, 3000 sleeping mats, 1000 respirator masks with filters, 25,000 goggles, 2000 reflective vests, 100 caution tape (100ft roll), and 10,000 hygiene kits are also needed.
La Soufriere volcano
At about 08:41h on Friday, the La Soufriere volcano started to erupt with ash plumes of up to 8 kilometres recorded. There were at least two other eruptions throughout the day – one at 14:45h (2:45 pm) which went about 4 km into the atmosphere, and the other at around 18:35h (6:35 pm).
The explosive eruption had put a significant volume of ash into the atmosphere. It was reported that the volcanic ash consists of fine particles of volcanic rock shot into the air during the eruption and prevailing wind conditions had taken the ash clouds in a north-easterly direction. Reports indicate that it could reach neighbouring islands including Barbados.
UWI's Seismic Research Centre Geologist, Professor Richard Robertson, said during a Friday morning press briefing that the volcano had gone into continuous tremor overnight before starting to erupt.
According to Professor Robertson, while the first eruption was not a big one, more explosions are expected and these could continue for days and even weeks.
Prime Minister Gonsalves on Thursday evening had declared a red alert and issued an evacuation order. Videos which circulated on social media showed evacuees with luggage treading through the streets covered in ash with a grey smog filling the air.
During an interview on NBC Radio in St Vincent Friday evening, Professor Robertson urged persons to not be in the ash and to ensure that their homes and other premises are secured to prevent the tiny particles from entering.
The La Soufriere volcano last erupted in 1979 with no deaths or injuries since the area had been evacuated. However, a previous eruption in 1902 killed some 1600 people.