Local authorities have heightened their monitoring of persons passing through Guyana's airports after reports of forged COVID-19 test results have surfaced.
During his latest COVID-19 update on Wednesday, Health Minister, Dr Frank Anthony disclosed that there have been cases of persons forging their COVID-19 test results in order to get into Guyana.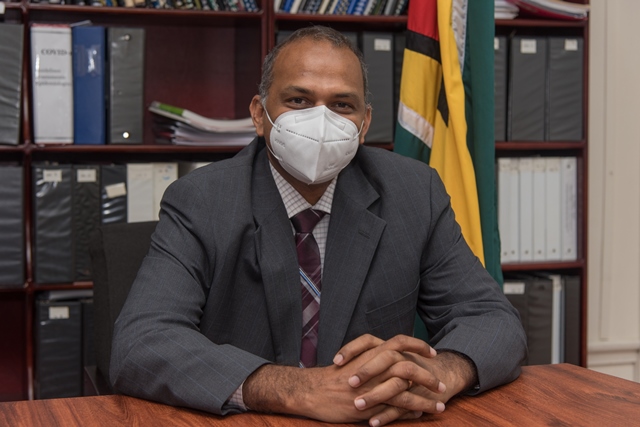 "We had reports of people forging their PCR to come to Guyana, and we have launched an investigation into that and we have alerted airport authorities for those respective countries telling them that this is something we have heard of and we would like them to be extra vigilant. We've also alerted the airlines that are bringing in passengers from these destinations. So, we have done some of that work to heighten vigilance in terms of persons coming in," the Minister revealed.
As it is, persons entering Guyana are required to have a negative PCR test taken within seven days prior to their arrival. Persons with tests done within one to three days upon their arrival will not be subjected to any further health checks, however, those with tests that were completed within four to seven days prior to their arrival will be subjected to a PCR test at the airports here before being allowed to exit the building.
Private facilities have been set up at the airport to conduct these tests for persons both arriving and departing the country.
However, while Dr Anthony noted that there have been cases of people falsifying their COVID-19 tests to enter Guyana, there have not been any such cases for persons leaving the country.
But back in December, Eureka Medical Laboratories – the only private lab certified to conduct PCR testing and one of seven private labs permitted to do antigen testing – had warned that persons have been falsifying negative COVID-19 results in order to travel during the Christmas holidays.
"The laboratory has been working closely with airport authorities to ascertain the identities of those who are culpable. Persons are, therefore, urged to desist from forging COVID-19 results as airport officials will be scrutinising all medical documents. Eureka wishes to advise the public that the fabrication of results can be detrimental to the health of others, especially in the case of a positive result being translated to negative, which can aid in the unfortunate transmission of the coronavirus," the private lab had noted in a statement.
Nevertheless, the Health Minister on Wednesday cautioned that those found culpable of committing this act will be prosecuted by the Police.
He further urged persons to check which labs have been certified in Guyana to conduct these COVID-19 tests.
"In our country, the only two labs that have been certified to do PCR would be the National Public Health Reference Lab and the Eureka Medical Laboratories. However, we have licensed several other labs to be able to do the antigen tests – which is a simpler test – and right now we have seven such facilities… Once an approval is granted to a lab, we would also then inform the airport authority so that when someone shows up with a test result, it can be validated by the airport authority and by the airline… that this is a genuine laboratory test," Minister Anthony noted.
Among the other labs certified to conduct antigen testing in Guyana for international travel apart from Eureka Medical Laboratories are: Dr Balwant Singh's Hospital Laboratory; Dr Leslie Persaud Clinic: Diagnostic Centre; Woodlands Hospital Limited Laboratory; Sheriff Medical Centre Laboratory; Quest Medical Centre and Anamayah Memorial Hospital.