A businesswoman is now worried about how she will meet her loan payments and clear other debts after her variety shop was broken into and over $300,000 worth of items stolen.
Shiv's Copy Centre, Bill Payments, Catering Corner and Boutique Stall, located at Bath Settlement, West Coast Berbice Public Road, was broken into sometime between Wednesday night and Thursday morning.
Owner Shivanie Poone told this publication on Thursday morning; the padlocks were discovered missing from stall and upon investigating, she discovered the shop was broken into and items stolen.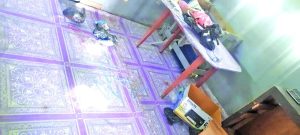 According to Poone, she discovered that a large quantity of male and female clothing was missing. She added that footwear, perfumes, flash drives, memory cards and $10,000 were also stolen.
"All the clothes hangers went on the ground, probably they gone with some because I discovered a lot of clothes hangers on the ground. They eat, they drink and they throw down everything and leave it there. We also recover the hammer that they break the door with. And they forget two skirts I must say. Because two skirts went on the ground and it seems that the place was dark and they didn't see it and there where they drop the clothes hangers," the businesswoman revealed.
She said a report was made to the Fort Wellington Police Station.
Losses are estimated in excess of $300,000.
"People don't understand, you working so hard. I have bank loan, business loan, I borrowed money from two persons and look now everything gone. I don't know where I will find this money to replace these people money, also the bank loan," Poone said, adding that "it's very hard for poor people" to earn when persons are working hard to make a living and such disaster occurs. The woman also related that it is the first time her shop was broken into and burglarised. (G4)