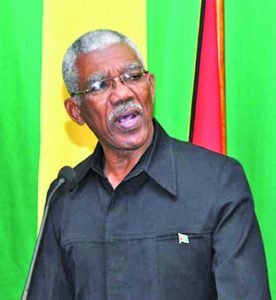 – says Presidnet should call elections if confident of ratings
Opposition Leader Bharrat Jagdeo has challenged the A Partnership for National Unity/Alliance For Change (APNU/AFC) coalition to call elections if it is so confident with the findings of a recent opinion poll, which shows that President David Granger has a high 94 per cent approval rating among supporters.
Speaking at his weekly press conference on Thursday, Jagdeo called the coalition-sponsored poll fake and desperate.
"This is a fake poll designed to help APNU, they're desperate. If they were so confident that Granger has such a high rating and they're doing so well, why not call elections. When you have those sorts of approval ratings, you just call elections. They been hiding, running, coming up with 34 is the majority of 65 just to avoid going to elections … If you believe you're so popular, you're getting 94 per cent (of supporters' votes) then call elections," Jagdeo posited.
According to Jagdeo, it is customary for political parties to conduct such polls so that they know their standing with the public and can see the areas they need to work on. However, he pointed out that when a party releases the findings of its poll, it only highlights its desperation.
"This is serious desperation on the part of Government. They poll on the benign issues (such as) do you like President Granger… is he pleasant – and President Granger scores 13 per cent and Irfaan Ali (the People's Progressive Party/Civic Presidential Candidate) three per cent – is the President genuine and trustworthy, etc. So I went through all of these issues and I see that the President scored higher than our candidate from an APNU poll, which is expected," he stated.
On this note, the Opposition Leader called the poll "pure nonsense", pointing out that it failed to take opinions on serious "bread and butter" issues in the country such as healthcare, education, jobs, crime, and not about who smiles better or is more pleasant.
"If President Granger is polled on keeping promises, he gets zero; if he's polled on condoning corruption, he will get the highest points for condoning corruption. That's where he will out-score Irfaan Ali by a margin of 100 to 1. If he is polled on management of Guyana, he will get zero. If he's polled on job creation, he will get zero. He is the President who has lost the most jobs in four years than any other presidents. In the history of Guyana, not other presidents had lost more jobs than President Granger in office. And in terms of creating new jobs, making cook-up and selling people sauce can't cut it in today's world. If President Granger is polled on being the most ceremonial president ever, he will score high there," the Opposition Leader posited.
According to reports, the poll was conducted by the Barbados-based Caribbean Development Research Services Inc (CADRES), and was done in February, taking opinions from some 1000 Guyanese from all 10 administrative regions.
Among the findings were that President Granger enjoys a 94 per cent approval rating among coalition supporters for his leadership, and a 50 per cent overall approval rating when supporters of the PPP/C Opposition and 'uncertain voters' are included.
Furthermore, it was revealed too that some 40 per cent of uncertain voters said they approved of the President's performance as Head of State.
However, Jagdeo, who is also the General Secretary of the PPP, noted that polls conducted by his party show that it is "massively" ahead in the electoral race. But despite this, the Opposition Leader noted that the PPP was not being arrogant or complacent and was continuing to work hard to show Guyanese it was different and had plans for the betterment of everyone.
He said, "In politics, you have to work hard every single day. It's not just about sitting back and say this is a God-given right because we have the support now. Every single day our activists are on the ground … We didn't go after APNU too much, because people know what has happened, we don't need to tell them about the inept management of the Government," he noted.
Instead, Jagdeo noted that they were talking about their plans for the country and how all Guyanese were included.
"We use this time to continue working on that so every Guyanese, regardless of how you vote, (know that) a PPP victory doesn't mean that you will lose out in any way … We're gonna work on the things that matter to you: jobs, housing, etc, and on the corruption and other issues, how we will tackle those … We're not leaving anything to chances," the Opposition Leader stressed.
Following the December 21, 2018 passage of the no-confidence motion against the Government, the coalition challenged the validity of the motion and after failing to get the Speaker of the National Assembly, Dr Barton Scotland, to reverse it, the Administration approached the High Court.
However, acting Chief Justice Roxane George in January upheld the passage of the motion, ruling that it was validly passed with the 33 majority and as such, Government must resign and call elections. But that decision was then appealed by Government at the Appeal Court, which in March, ruled via a 2-1 majority that an absolute majority of 34 votes is needed to successfully pass the motion.
As a last resort, the Caribbean Court of Justice (CCJ) is being asked, in a consolidated appeal, to finally determine these matters. The Trinidad-based regional court has set June 18 for ruling on the cases.