By Clifton Ross
Guyana Jaguars cranked up the heat in the batting department upon the resumption of the Four-Day Championships, but it's safe to say their wide-array of bowlers should act as a fail-safe switch should their batting crumble.
The potency of the champs' batting has been demonstrated on a number of occasions. Thanks to their wealth of experience in former and current Windies players, it would seem that the batsmen have become the marquee leaders of the team.
With Chandrapaul Hemraj and Anthony Bramble slamming first-innings tons against Barbados in the ongoing third-round match, support came from Raymon Reifer and Sherfane Rutherford who hit contrasting fifties to further highlight the depth of the Jaguars' batting.
But on the flipside, it's the Jaguars' bowlers who are tasked with carrying the heaviest of burdens, based on their past performance which reflects that the operators of the ball, most notably the spinners, have been the match-winners in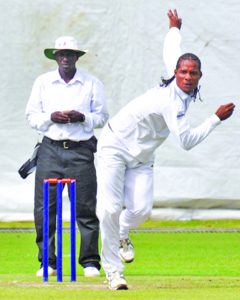 the end. Slightly altered from the previous seasons with no Raun Johnson, Ronsford Beaton or as of late the appearances made by Keon Joseph, Guyana's bowling has primarily relied on a newer, younger lot of bowlers over the past few seasons.
This season, the responsibility will rest on the shoulders of veterans Chris Barnwell and Reifer, both of whom have been a part of the championships team since their first win back in the 2013-14 season. Barnwell has been one of Guyana's usual suspects around regional time, and his vast experience and knack for taking wickets have assured him a spot on the team as well as a place as a go-to bowler for Captain Leon Johnson.
Reifer, on the other hand, has been a revelation for Guyana, winning matches and keeping the Jags' prestigious record in Four-Day cricket alive with his left-arm swing bowling and his batting ,which has been coming together nicely since his international exposure.
The left-hand/right-hand combo provided by Reifer and Barnwell further complements the Jaguars' other bowlers. Newcomers Rutherford, Romario Shepherd and Clinton Pestano have been a dream trio for Guyana given their overwhelming success in such a short space of time.
Pestano seems to be fitting right into the Four-Day set-up after emerging as one of the best pacers and the most successful for the Jaguars during the 2018 Regional Super50 , ending with 15 wickets, including a hat-trick against the Trinidad and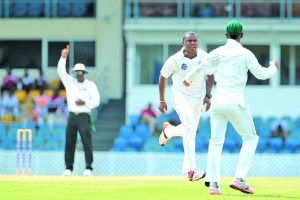 Tobago Red Force.
Pestano has also been no mug with the bat, hitting a composed 69 in the opening round versus the Windward Volcanoes and currently sits on eight wickets, making him one of the X-factors for the Jags going forward.
Rutherford, more in the side for his power-hitting abilities, is also a good seam-bowling option for Guyana and with 23 wickets from 10 First-Class games including a best of 6-23, his presence in the team as a right-arm fast bowler could see him sneaking in more overs than before, given his international status these days.
Shepherd has also been a key player in the team; the strapping Berbician is a renowned pinch-hitter in limited-overs cricket, but it's his bustling run-up and ability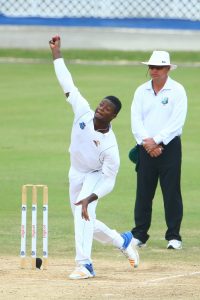 to derive bounce and pace which make him a lethal weapon.
The 24-year-old has been rampant since the start of this season with stats of 2-30, 1-44, 1-23 and 4-36 from the two completed rounds, signalling his intentions to mark his spot as one of the future leaders of the Jaguars' bowling unit.
Veerasammy Permaul, the Jaguars' most experienced bowler and leading wicket-taker overall in the team, continues to be the big fish and the clear threat against the opposition come regional season. Quickly approaching 500 First-Class victims, the left-arm spinner has already again demonstrated his wizardry, bagging 12 wickets from just four innings with hauls of 3-56, 3-13, 1-41 and 5-57 – his 26th 5-fer at this level.
Permaul continues to baffle the opposition while the faster men provide the fire and scorch needed to soften batsmen in a Test match. With Guyana's evenly-balanced side, it's clear that should they falter while posting a total or chasing one, their class lot of bowlers seems to be well-equipped and capable of defending a low score or bailing their team out of a catastrophic situation should one arise within the next few rounds.