The grounds have been prepared and the weather has been very supportive, hence all golfing interests will be focused on the events unfolding at the Lusignan Golf Course this weekend, as the now rejuvenated annual Lusignan Golf Open Tournament gets underway, teeing-off at about 5:45 hrs today and tomorrow.
In a very brief presentation ceremony that took place in the Boardroom of the Department of Tourism in Sophia, Georgetown, Donald Sinclair, Director General of this department of the Ministry of Communities, said he is looking forward to a good and successful event for the Lusignan Golf Club.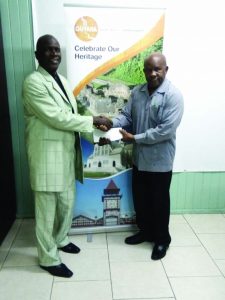 Sinclair handed over the sponsorship cheque to the Public Relations Officer of the Lusignan Golf Club, Guy Griffith, who expressed to Sinclair the Club's appreciation for his and the Tourism Department's involvement.
Lots of trophies have been provided for this event by the sponsor, and with the grounds being well prepared for the tournament, spectators are urged to come see the best golfers in Guyana showcase their individual talent free of charge, and learn just how intense competition in this amazing sport can be.
The tournament will be played under the Medal Play format, and there will be four flights: 3 men's flights and 1 ladies' flight. The men's flights are classified as 'A' Flight – Handicaps 0-9; 'B' Flight – handicaps 10-18; and 'C' Flight – handicaps 19-28.
The ladies' flight is for females with handicaps 0-36.
First to 3rd place winners are to be awarded prizes in best net and best gross performances in each flight, and the tournament's male and female champions will be decided on the best gross score over the 2 days of play.
Persons desirous of obtaining more information on the game of golf, or on the LGC's tournaments or activities, are invited to contact the Club at 220-5660 or visit their Facebook page: lusignan golf club.