…Andrea King setting to take the Miss World stage in coming months
By Pooja Rambaran
Reigning Miss World Guyana, Andrea King has had a busy year since she won her title last August – holding financial literacy workshops for students, becoming the Guyana Telephone and Telegraph Co Ltd's (GTT) Pinktober 2023 Ambassador and continuing to prepare for the Miss World 2023 pageant slated to begin in November.
Guyana Times caught up with King on Friday, during GTT's launch of Pinktober 2023, an initiative that aims to mobilise civil society organisations, the public and private sectors and the community at large in supporting cancer awareness, screening, diagnosis and treatment.
"It's a privilege for me to be able to do that, joining hands with GTT and the Champions of Hope foundations to support their fundraising efforts, the education and awareness campaign, and the early detection programme," King said.
"Thank you to GTT for giving me that opportunity to continue being a 'Beauty with a Purpose' ambassador in this regard," King added.
The term "Beauty with a Purpose" holds additional meaning for King as she continues on her Miss World 2023 journey.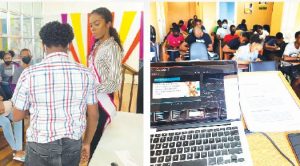 An important component of the international competition, Beauty with a Purpose is a registered charity and non-profit organisation associated with Miss World in which contestants raise money and participate in humanitarian projects.
In February, King – who holds a Business Management Administration degree – launched her "Beauty with a Purpose" project through a series of engagements with students and other stakeholders on the importance of financial literacy.
"My platform started out as a project to deliver financial literacy workshops to students in schools because I know financial literacy is not a core subject that is focused on right now and since then, we have grown to an official non-profit organisation and it's the first of its kind in Guyana that focuses on financial literacy," King said.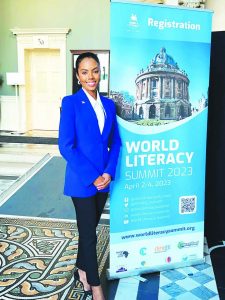 King's Project FLO (Financial Literacy Orientation) has now grown to a point where she's engaged with over 1000 students countrywide on understanding how to save, spend and invest their money wisely.
"I started out with a few grades but really students as young as nine-years-old have been joining my workshops, all the way up to 21. Everybody wants to learn about money before they start earning money. It's no longer restricted to grades so I'm happy that we've had so much reception from children of all ages," King said.
In April, she even had the opportunity to represent Guyana at the World Literacy Summit at Oxford University in Oxford, United Kingdom (UK).
This Summit brought together leaders from some 85 countries and gave them a platform to discuss their collective goal of advocating, championing, and educating the vital importance of improving literacy levels across the globe.
"I presented Project FLO and advocated for financial literacy at the highest level. So, it's been amazing so far and I'm making great progress and I'm really working to normalise financial literacy education for our students," King said.
She noted that her sessions with Guyanese students have usually been interactive, with them having a vested interest in learning more about money.
"Children love talking about money. It's something that we talk about every day, we think about every day and when you get down to conversations with them about how they can start doing better with their own spending habits, when you start talking to them about things like savings, budgeting, investing so that they can start earning – I think that's their favourite part because everybody wants to know how to make money," King said.
Competition
The Miss World 2023 pageant is expected to be held on December 8 at the Kashmir International Convention Centre in Srinagar, India, following weeks of activities and opportunities for the contestants to prove themselves worthy of the international title.
"It's been a long time coming and I'm really excited to represent Guyana and meet all the other delegation models around the world. Preparation has been great. As I boil down to me leaving, you're going to know all about my journey," King said.
At nine-years-old, King participated and won her very first pageant alongside her mother—the Mother and Daughter pageant in the middle category.
Now, she is set to participate on the global level, against representatives from 93 other countries.
"You can follow me on my Miss World Guyana Facebook page, you can follow me on my Instagram, on Mobstar at Miss World Guyana which is the official voting platform where if you want Guyana to win, like every post and vote, vote, vote," King added.