…2 more deaths, 53 positives recorded in 24h
The Health Ministry has received another shipment of the Sputnik V COVID-19 vaccine from Russia.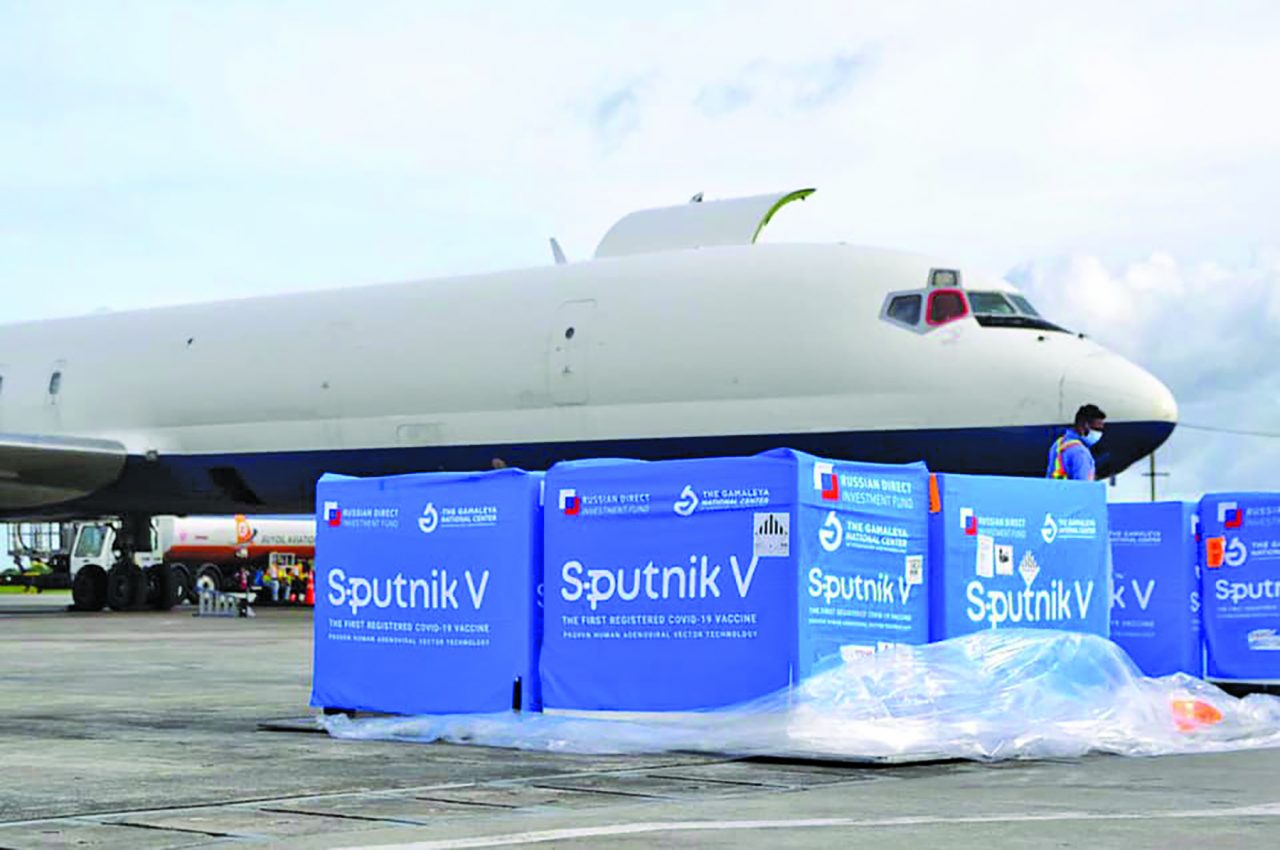 The shipment, which consists of only 1st dose vaccines, was delivered at the Cheddi Jagan International Airport (CJIA), and will add to the existing national vaccination campaign.
It was previously reported that there was a delay of second doses for the Sputnik V vaccine administration but the population was advised that the interval to receive the last dose can extend up to 12 weeks.
Some 235,463 jabs of the Russian-manufactured vaccine were previously delivered from a State purchase. Government had first purchased 200,000 doses and then secured another 600,000 for Guyana. The shots continue to arrive in tranches, enabling immunisation for 400,000 persons.
COVAX is also close to delivering on its promise of 100,800 doses; adding to donations of 80,000 AstraZeneca from India, 20,000 Sinopharm from China and 3000 AstraZeneca from Barbados.
As of Sunday, 210,777 persons in Guyana received their first dose of the vaccine, measuring just over 42 per cent of the adult population. Some 76,115 or 15.2 per cent of this number have been fully immunised, meaning that they would have taken both doses of the respective vaccines.
Persons from Regions Two (Pomeron-Supenaam) and Seven (Cuyuni-Mazaruni), who took their first Sinopharm dose were on Monday urged yet again by Health Minister, Dr Frank Anthony to return for their second jab. In the latest COVID-19 update, he also explained that many persons are also due for their second AstraZeneca shot to complete the immunisation process.
"We have noticed this in Region Seven and in Region Two. I want to make a special appeal to those persons who, in these two regions have received their Sinopharm first dose to come back and get their second dose. We know that we have, over the last three months or so, immunised a lot of people with their first dose AstraZeneca. Many of those persons are now due for their second dose and we want them to come to any one of our vaccination sites because we have the AstraZeneca second dose to be administered. We really want people to come and get their vaccines. I hope people don't delay," he asserted.
Vaccines can be accessed from some 100 fixed and mobile sites that are located across the country.
New deaths, cases
Two more deaths from the novel coronavirus have taken the country's death toll to a startling 411. A total of 13 deaths have already been reported for the first week of June.
The fatalities are two women: a 70-year-old female from Region Two (Pomeroon-Supenaam) and a 65-year-old from Region Four (Demerara-Mahaica). They died at a medical facility while receiving treatment.
Four deaths were previously reported for Sunday and two on Saturday.
Monday's updated dashboard showed an increase of 53 new cases as the total confirmed cases in Guyana moved to 17,718. For the first week of June, there have been 604 new cases and 641 recoveries.
Active cases have reduced to 1787: 17 patients in the Intensive Care Unit, 95 in institutional isolation and 1675 in home isolation. Additionally, two persons were placed in institutional quarantine.
Some 15,520 of the 8746 males and 8972 females that tested positive have since recovered. Guyana has tested 161,788 persons since the virus was first detected back in March 2020.
From the new positives, six were from Region Two (Pomeroon-Supenaam), seven in Region Three (Essequibo Islands-West Demerara), 23 in Region Four (Demerara-Mahaica), four in Region Five (Mahaica-Berbice), three in Region Six (East Berbice-Corentyne), four in Region Seven (Cuyuni-Mazaruni), one in Region Eight (Potaro-Siparuni) and five in Region Nine (Upper Takutu-Upper Essequibo).
Confirmed cases in Region One (Barima-Waini) and Region 10 (Upper Demerara-Berbice) still at 1145 and 1235.
The World Health Organisation (WHO) has outlined that the most common symptoms of COVID-19 are fever, dry cough, and tiredness. Other symptoms that are less common and may affect some patients include loss of taste or smell, aches and pains, headache, sore throat, nasal congestion, red eyes, diarrhoea, or a skin rash.