Timehri prison break
Following the shooting death of her son, 26-year-old Winston Hinds, at the Timehri prison about a week ago, Carla Bobb of Blueberry Hill, Wismar, Linden, Region 10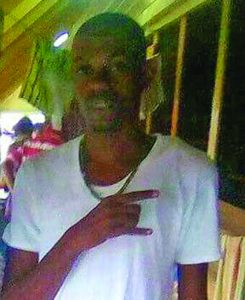 (Upper Demerara-Berbice), said she remains hurt over the incident.
Hinds, formerly of Linden, was the fourth of six children and father of two. He was on remand for the alleged murder of 44-year-old Richard Remington of Lot 19 Christianburg, Wismar, Linden, who was murdered at Cholmondeley Hill, Wismar.
Remington was shot by a prison officer during an alleged escape bid following a reported fight in the prison's dormitory. Reports are that he fled into the prison yard while officers tried to break up the fight and restore order and did not adhere to repeated orders. A post-mortem examination conducted on the body of the deceased reportedly revealed that he was shot to the abdomen, stirring speculation that he was not trying to escape at the time he was shot. Speaking on Thursday, Hinds' mother related how saddened she was over the entire episode. She said her son was also chopped while in prison about a year ago and she was only informed of the incident via phone calls from fellow inmates. She noted that she had visited him after she had learned of the incident and was only informed about what transpired during the visit. The woman alleges that her son was in prison for over two years awaiting trial.
"I feel really bad because I think the jail should take care of your children when they're in prison…So, it pains a lot. I'm a single parent of six children," the woman noted.
Bobb said she and another son were present to witness the post mortem, pointing out that she last spoke to Hinds the day before he died and he did not inform her of any issues at the prison. She said Director of Prisons Galdwin Samuels has since reached out to her in conversation and offered to provide help.
The woman noted that she was also informed of how the incident occurred which led to her son's death and that the prison officer who shot him also called and apologised.
"He said he sorry, he didn't go to shoot him like that and he said he go to shoot him in his foot. He even promised to help with the two kids… I really can't 'fight the fire with the fire' because I'm very poor," the woman said. Bobb was also part of a group of women in Linden who had protested against alleged Police brutality last year, seeking justice for their sons whom they alleged had fallen victims to Police brutality.