Intense rainfall
…some 200 persons in shelters
…more than 37,400 hampers distributed
Following weeks of heavy rainfall throughout Guyana, some 29,300 households have been inundated, and more than 200 persons have had to be relocated into Government-established shelters after their homes had been affected by the floods.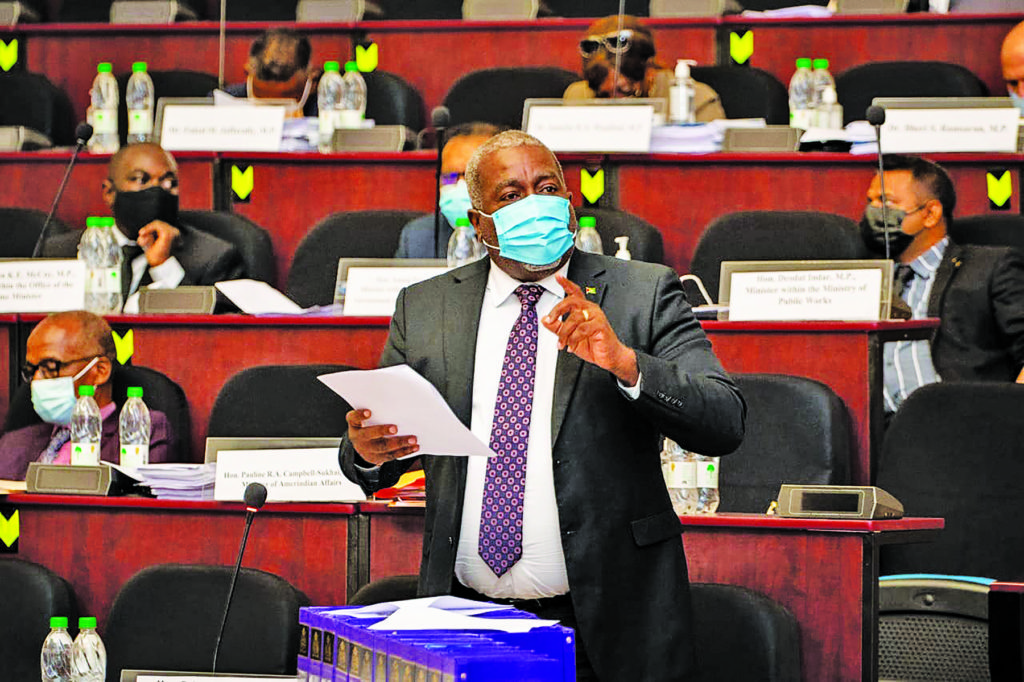 This was revealed by Prime Minister Brigadier (ret'd) Mark Phillips, who on Thursday updated the National Assembly on the ongoing flood situation across the country.
Currently, all 10 administrative regions in Guyana are experiencing varied levels of flooding.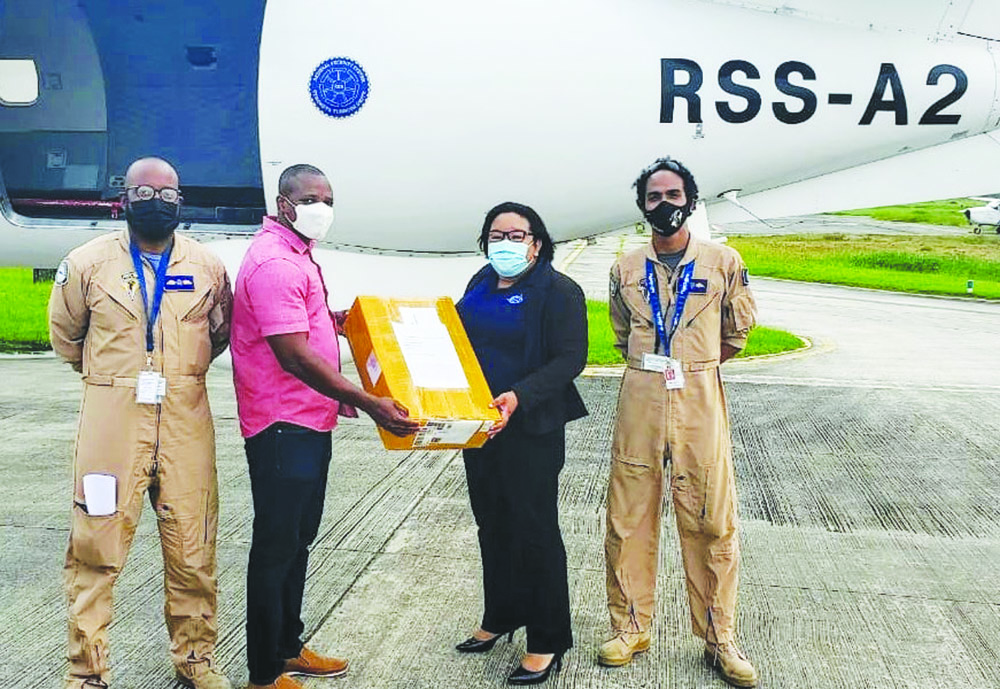 According to the Prime Minister, the massive rainfall experienced in May alone was recorded as the second highest rainfall across the country in the last 40 years. He noted that these torrential rains have impacted not just thousands of households, but also large swathes of farmland as well as livestock.
"These severe conditions have affected over 29,300 households in more than 300 communities in all 10 regions across our country, and have caused damage to homes; distress to and loss of livestock and domestic animals; destruction of crops, farmlands and other forms of livelihood.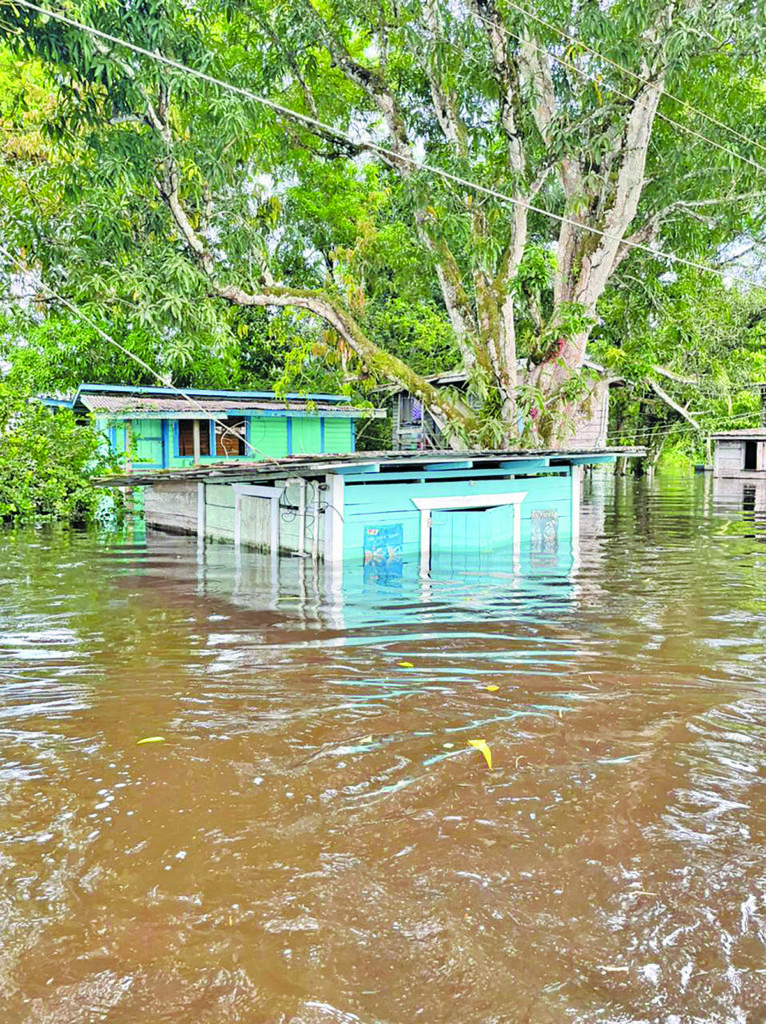 "Families have been forced to evacuate, and are being housed in shelters as a result of the damage caused to their homes," he posited.
PM Phillips revealed that some 201 persons have been forced to relocate to shelters after their homes were inundated. In fact, at Kwakwani in Region 10 (Upper Demerara-Berbice), the overtopping of creeks and rivers has left the logging community covered in several inches of water – in some cases, almost covering flat houses and almost reaching the upper flat of two-storey houses.
Other hinterland communities as well as riverine communities along the coast are also under water. Shelters have been established in Regions Two (Pomeroon-Supenaam), Seven (Cuyuni-Mazaruni) and Nine (Upper Takutu-Essequibo).
According to Phillips, the floods in the hinterland regions have threatened food security there. However, the Prime Minister pointed out that his Government, under the leadership of President Dr Irfaan Ali, has responded swiftly to the flood situation by bringing relief to the impacted households and communities.
Further, he alluded to the multi-stakeholder outreaches across Guyana by Cabinet Members and other Government officials who have been fanning out to affected communities to make first-hand assessments of the situation on the ground and to participate in the ongoing relief measures to residents.
"In the wake of these devastating conditions, the Civil Defence Commission (CDC) has been exceedingly active in its shelter management, evacuation, and relief distribution efforts across the country. To date, CDC has distributed 19,935 food hampers and 17,529 cleaning hampers to affected persons as a form of emergency relief," he stated.
In addition to these and other continuing on-ground support to the flood-affected communities, the CDC has been providing technical support to the Regional Emergency Response System in 10 regions, while other Governmental and non-Governmental agencies have also implemented response measures to aid in effectively tackling these harsh conditions and bringing urgent relief to citizens.
Moreover, the Commission has been engaging the Caribbean Disaster Emergency Management Agency (CDEMA) and other regional and international stakeholders for support in its national flood response efforts.
On Wednesday, President Ali announced that the CDC has advised that the flood situation in Guyana has reached a Level 2 Disaster.
According to CDEMA's Regional Response Mechanism, a Level 2 event is one in which the national capacity to respond is not overwhelmed, but some external assistance is required.
As such, the Head of State noted that Guyana will now be reaching out for "international support."
IMPACS donation
Already, the Caricom Implementation Agency for Crime and Security (IMPACS) has donated 10,000 surgical masks, 30 handheld, non-contact thermometers and 6,600 water purification tablets to the CDC to support local relief efforts. These items were handed over to the Commission today.
However, the CDC has been receiving overwhelming assistance from local stakeholders. Almost daily, there are financial support and donations of relief supplies from the Private Sector, citizens, and non-governmental organisations (NGOs), along with other entities.
In fact, the Commission has opened a bank account in collaboration with the Guyana Bank for Trade and Industry (GBTI) Ltd to facilitate donations from members of the public towards its flood response.
According to Prime Minister Phillips, over $35 million dollars in monetary donations have been received to date.
"It is this type of unwavering support that showcases a true spirit of unity amongst our people when our country faces hardship; and for this, our Government is immensely grateful… As our country continues to face this national crisis, our Government expresses our unwavering commitment to the ongoing support and relief of our people, and we look forward to continued collaboration as we take a multisectoral and inter-agency approach to bring resolution and relief to our citizens," he posited.
Continue relief efforts
Phillips went on to say that Government would continue its relief efforts, which include the distribution of food and non-food items such as sanitation hampers and hygiene care packages to affected residents as needed; establishing and managing temporary shelters as needed, and conducting detailed damage assessments as needed.
He also reassured of Government's commitment to supporting affected families by ensuring that their livelihoods can be returned to them following the damages caused by this disaster.
This, the Prime Minister outlined, is especially important, since more flooding is anticipated in most regions throughout this month and into mid-July.
"Guyana's rainy season usually lasts until early July for Regions One, Two, Three, Four, Five, the northern part of Six, Seven, Eight and 10, while it would continue until early August for Region Nine and the southern parts of Region Six. Based on the latest seasonal reports, however, it is estimated that we will continue to experience above-normal rainfall during the period June to August 2021. During this period, an increase in the number of wet days and approximately seven days of extreme wet spells can be expected," the PM noted.
With these conditions expected to continue in the coming weeks, residents are advised to take the necessary precautions to safeguard against possible flooding, wind, lightning, and mudslides. (G8)