Over 500 persons are living on Government reserves in Sophia, Greater Georgetown.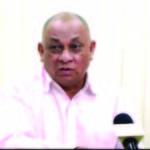 This is according to the Central Housing and Planning Authority's (CH&PA's) Settlement Upgrading and Regularisation Unit Director, Gladwin Charles.
Charles was at the time addressing the issue of regularising areas where there is a large number of squatters.
He added that some 85 per cent verification of squatters' lots throughout various areas which are being regularised across the country has been carried out.
He stated that for Sophia, which is the biggest area in Guyana to be regularised, verification and distribution of land titles are still ongoing.
"That area is one of the largest areas we have in the country in terms of regularisation. We have approximately 5549 lots in the area and we've regularised approximately 85 per cent in terms of verification and about 75 per cent of those persons have received their titles to date," Charles said.
He added that some 24,000 lots will be available throughout the various regions after nationwide regularisation is complete.
The Director also expressed that the CH&PA has been facing difficulties with relocation, however, collaborative efforts with organisations such as Food For The Poor (Guyana) Inc, have been made to provide homes for families.
"In terms of relocation, we know that's a bigger challenge, for example, in Sophia we have on the reserves, we're working with those persons in terms of relocation. We've interviewed over 500 persons on the reserves on the power lines…that's why I mentioned it's very challenging in terms of relocation but we're working with those persons with the community groups, community leaders…," he stated.
Over the years, squatting has posed a major challenge across the country for both the current and previous Administration.
Chief Executive Officer of the CH&PA, Lelon Saul, said the body has a "zero-tolerance" policy as it relates to squatting.
"Persons who are squatting will be removed but we must identify appropriate locations for them and we are currently working on that. There is a lot of issues that must be taken into consideration," he said.
Moreover, the Guyana Lands and Surveys Commission (GLSC) had indicated plans to ramp up its work to remove squatters from across the country, as it has now been inundated with reports of incidents with affluent people in society also being accused of partaking in this illegal practice.
GLSC Commissioner Trevor Benn told Guyana Times that it has been observed by the Commission that there has been rampant squatting taking place along the reserves in Georgetown. Benn said along the area stretching from Bourda to Mandela Avenue, Georgetown, every single landowner has extended their fence.
"And these are people with knowledge, money and who should understand that they should not squat. One of them is a senior businessman, who even went to the courts to prescribe for the land," he explained.
He added that as a result of this illegal act, the Mayor and City Council of Georgetown did not have access to clean the reserve which is posing a major problem in keeping the area clean.
Benn said, "So, squatting is not a poor people thing. It's everybody squatting. It has become rampant and it has to stop and we will go after people as much as we can. We have a no-compromise policy when it comes to squatting. People should not squat. The law said so," he asserted.
The Commissioner said it observed that there was a significant increase in squatting along the Linden-Soesdyke Highway and in Port Kaituma, Region One (Barima-Waini), among other areas. Squatting has taken place on lands already leased for industrial, commercial and residential land use, and on reserves, which constrain development of some areas and delay processing of land applications.
The Commission has said that all squatters, including those who are encouraging squatting, will be prosecuted and new squatter settlements will not be regularised.