…urges political parties to "gear up"
As Guyana prepares for the holding of the long-overdue Local Government Elections (LGE) in March, President Dr Irfaan Ali has called for the participation of more women and young people at the polls.
On Thursday, Government revealed that Monday, March 13, 2023, has been selected as the date for local government polls and this has been related to the Guyana Elections Commission (GECOM).
According to President Ali, the People's Progressive Party/Civic (PPP/C) Government had committed to holding Local Government Elections once GECOM indicates its preparedness. Now that a date has been fixed, the Head of State is calling on all Guyanese to work together in renewing efforts to build the local governance system, build and strengthen communities especially municipalities and township.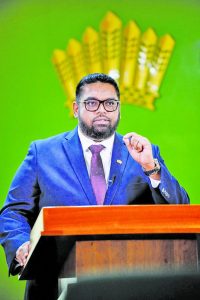 In fact, the Guyanese leader pointed out that in recent time, it was seen how mismanagement affect townships and municipalities across the country.
"This is a time for us to work together. This is a time for us to come together. This is the time for us to strengthen our governance system to work towards building a system that delivers to our people. We are hoping that with these Local Government Elections, we can bring together local leadership that includes women and young people that shows our seriousness in building and strengthening governance at every single level," President Ali stated.
Good governance
The Head of State said the PPP/C has always been committed to upholding the rule of law and following a democratic pathway to good governance. The party believes in democracy, he stressed, while adding that they will be working to deliver a team of local government leaders that will work for the betterment of citizens.
"An important part of democracy is local governance. Local governance and local government system is an essential part of our governance framework… As your President, I am humbled to say that I will spare no effort and the People's Progressive Party/Civic will spare no effort in working with every single community, every single municipality, every single township in putting together a team and bringing together a team that is reflective of a 'One Guyana' agenda, a team that will promote development."
"A team that will work integrally with the regional governance system and the Central Government to ensure that our development takes place not only at a rapid and efficient pace, but our development brings people together and our development strengthens our communities, and better services delivered to our communities," he asserted.
To this end, President Ali is encouraging all stakeholders including political parties to participate in the upcoming local government polls.
Participate fully
"We all, as stakeholders, have to participate fully in this process. We ask all political parties and Opposition to get ready. You have long enough notice to be part of this democratic process… We believe in democracy. We believe in allowing democracy to work. We believe that the people are the custodian of their will to elect who should govern. And we are confident that in the People's Progressive Party/Civic… we will be working to deliver a team that will be able to work with every community, for the good and betterment of every citizen," the President said.
However, the A Partnership for National Unity (APNU), the now main Opposition political party, remains tight-lipped on its participation in the next LGE, while its minority coalition partner, the Alliance For Change (AFC), is yet to make a definitive decision on whether they will be contesting the polls together or on its own.
On Thursday, Local Government and Regional Development Minister Nigel Dharamlall informed the Chairperson of GECOM, Retired Justice Claudette Singh, of the selection of March 13, 2023 as the LGE date.
The Local Authorities (Elections) Act, Chapter 28:03, states that elections are held according to the date set by the Minister.
Earlier this week, Justice Singh had written to the Minister, advising him that based on GECOM's work plan, elections can be held anytime between March 13 and April 24, 2023.
Local Government Elections are constitutionally due every two years in Guyana and was last held in 2018.
While Local Government Elections were due in 2020, the elections fiasco that played out following the March 2 General and Regional Elections that year resulted in LGE being deferred to last year.
But despite some $1.1 billion budgeted in 2021, the GECOM Chair had indicated in September last year that the agency was not in a state of readiness to host any elections since it was in the process of filling several senior posts at the GECOM Secretariat.
Some of those senior posts within GECOM became vacant after former Chief Elections Officer Keith Lowenfield; his Deputy, Roxanne Myers and former Returning Officer Clairmont Mingo were fired for attempts to sway the results of the 2020 General and Regional Elections. They are currently before the courts facing electoral fraud charges.
It was only in December last that the Commission finally completed the appointment of a new Chief Elections Officer in the person of Vishnu Persaud. Then only last month, GECOM appointed Beverley Critchlow as the Assistant Chief Election Officer (ACEO).
Nevertheless, over the past months, the Elections Commission had been in preparatory mode for the holding of the local government polls.
Already, some $2.9 billion has been allocated to GECOM for preparatory works to ensure the successful planning and execution of LGE. More than $750 million has been set aside in Budget 2022 for the preparations to be undertaken by GECOM for the hosting of LGE this year.
GECOM only recently concluded its Claims and Objections exercise, which captured more than 3000 new applicants who will be eligible to vote as of October 31, 2022, as well as a total of 18 objections to names on the Preliminary List of Electors (PLE). Additionally, there were more than 1800 requests for transfers.
At the last LGE held in November 2018, the then People's Progressive Party/Civic (PPP/C) Opposition had secured 52 of the 80 Local Authority Areas (LAAs). This followed the holding of the LGE in 2016, during which the PPP/C also claimed the majority of the LAAs. (G8)