… long overdue – residents
Following years of frustrations from residents in North and South Ruimveldt, Georgetown, the Public Infrastructure Ministry has stepped in to alleviate flooding in the areas.
Compounded with structural issues and squatting on Government reserves, heavy rains cause constant flooding in parts of North and South Ruimveldt and clogged drains cannot be cleared.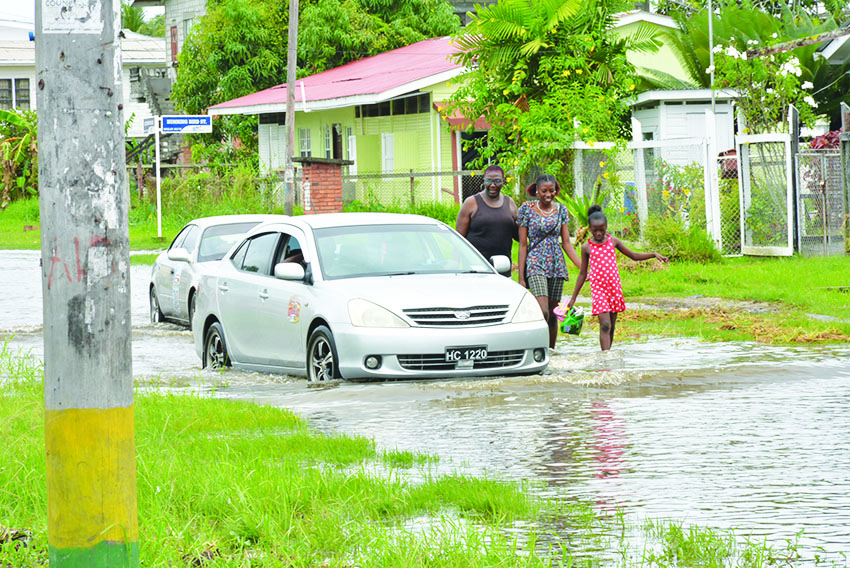 In a walkabout on Tuesday, representatives from the Public Infrastructure Ministry commenced the South Ruimveldt drainage project, which will see the rehabilitation of six culverts on Aubrey Barker Road as well as the cleaning of drains and alleyways.
The Ministry's Community Coordinator, Neilson McKenzie, explained that the project will principally fall under capital expenditure, further explaining that the total cost is still being ironed out.
It was further explained that the current drainage works have followed recommendations by a Dutch team which assessed the city's system. To this end, acting Mayor Sherrod Duncan highlighted that discussions have been held to determine if a water storage reservoir can be constructed aback South Ruimveldt to relieve flooding in the area.
The Acting Mayor further explained that while Central Government is providing the financing, the Mayor and City Council will add some of the needed machinery and labour. He noted that residents from the community would be employed with the project.
Residents however noted that the imminent works are long overdue, with many saying that City Hall should have already enacted measures to reduce the flooding.
"I want them dig proper drains cause the drains block," Pam Gaime told Guyana Times, adding that she has experienced the flooding over the last years.
Meanwhile, another resident who preferred to remain anonymous expressed great anger at the prolonged flood situation.
"[Monday] the rain come down suddenly; people taking off they stockings. I does walk with me long boots all the time cause me an able walk in the water, somebody got to do something. I tell them leh we come out and block de road; then we would get action but nobody an want do it," the woman stressed. Donnette (only name given), another resident of the flood affected communities, related that City Hall should have already employed measures to correct the situation and not depend on the intervention of Central Government.
"The Mayor and City Council supposed to come and check what's to be done and do it but them an doing that – is not everything you got to leff on Granger [President David Granger]. He can't go from village to village to see what's going on," she stated, adding that she has lived in the area for the past six years.
Over 500 metres of road works will be carried out in the project which is expected to last for the next two months.