Farmers and agro-processors from across Region 10 (Upper Demerara-Berbice) came together on Friday for a farmers' market initiative which was hosted at the Wismar Market Square in Linden.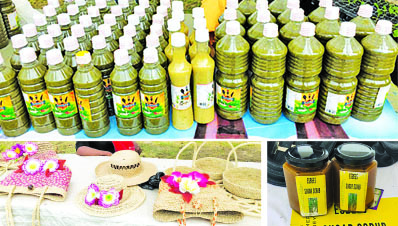 The farmers' market, which showcased a wide array of local products including food, craft, livestock, agricultural and value-added products, was hosted by the Regional Democratic Council's (RDC) Agricultural Department. The event was hosted under the theme, "Grow Local, Buy Local, Consume Local". Farmers and agro-processors, who participated hailed the event as a successful one and made calls for it to be hosted more often. The event was hosted a few times under the previous Council, however, there are plans for it to be hosted once a month. Local food manufacturer, Diane Plowell told this publication that she was out at the farmers' market since 06:00h. Plowell, who markets her products under the "Pleasurable Flavours" brand, said she took products such as relish, seven different flavours of pepper, green seasoning, all-purpose sauce, achar, cake fruits, tamarind balls among others which were all mostly sold out.
"The support was really good…Lindeners are supporting. I sold a lot because I came out early. I think they should have it (the event) more often. I'm totally in agreement with it," Plowell said.
She noted, however, that more farmers should have been out to sell and showcase their products.
"I think more farmers should have been involved because Linden have lots more farmers than this and lots more products. The ducks, everything that the persons bring sell out fast. A lot of persons bring out other stuff and it sell fast, poultry and other stuff, these things are selling out. The support in the sales is good, but I think more farmers – persons that selling the sweet peppers and stuff, we should get to know them more so we could liaison with them and benefit from the market," she continued.
Plowell added that while hosting the event once a month is fine, it would be better to do so once a week, as is customary with some other regions.
"I'm applauding them for the once a month, but let's see where that goes…don't stay there. Come down to less than once a month because you can see that it's needed, from the support that we got. And we're on the ground, we're hearing the comments," she said.
She further urged the RDC to be consistent and teach farmers and agro-processors how to better market their products.
Local manufacturer Ruth Esbrand also brought with her, local vegetables and fruits. She said it was quite surprising that some of the local fruits and vegetables were sold out.
"I'm surprised to know that Linden people 'starving' for stuff," she said.
Esbrand said she would even have requests from persons out of town for vegetables like eddoe leaf, which is one of the main products that she sells.
She also has her own line of soaps, body butter, body scrubs and scented candles which are all made from local, natural ingredients which are marketed under the "Esbees" brand.