Guyana is currently hosting the 12th International Labour Organisation (ILO) Meeting of Caribbean Labour Ministers during which President Dr Irfaan Ali put forth that social justice should be a global concept with global responsibilities that all ILO members adhere to.
The President made this remark during the three-day conference's opening ceremony on Tuesday at Marriott Hotel, Georgetown.
Themed "Social Justice – The Foundation for Sustainable Caribbean Transformation," this year's ILO meeting is intended to address global, regional and national actions required to accelerate the mainstreaming of social justice for transformative socio-economic development.
"For social justice to exist, there must be some guiding principles that will allow us at a global level to understand that global social justice is not a theory, but a set of principles and values that we are all going to bound ourselves by," Ali said.
The question, however, the President postulated, is if social justice really exists at the global level and is a priority within the global agenda.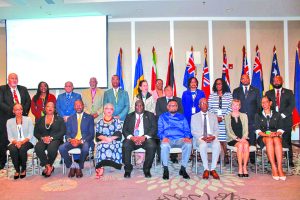 "If you look at the three confronting crises of the world – energy security, food security and climate security, where does social justice exist? At the first global challenge the world faced, social justice was erased. It became a selfish enclave of protectionism," Ali said.
The President expressed that while it is understood that every nation must protect their citizens, if social justice is a global concept, then there should be global responsibilities.
Meanwhile, ILO Decent Work Team and Office for the Caribbean Director Dennis Zulu clarified the intention behind this meeting and why the focus surrounds the concept of social justice.
"The impacts of COVID-19, climate change and global conflicts have worsened pre-existing weaknesses such as unemployment levels, poverty, and inequalities. We now have no other choice but to rethink how we approach socio-economic development challenges," Zulu said.
"Social justice enables equal access to opportunities that were just inequalities, boosts productivity, builds socio-economic security and enables Just Transitions," Zulu added.
Just Transition, another aspect of this meeting, involves addressing environmental and employment challenges collectively.
Zulu went on to clarify the four main advantages of promoting social justice: it reduces inequalities and allows for access to the labour market regardless of gender, race or other identifying factors; it enables greater skills development and education; it encourages increased social protection in areas including unemployment benefits and income assistance; and it promotes formalisation whereby workers can access legal protection, social security and career advancement opportunities.
Assistant Secretary General of Human and Social Development for the Caribbean Community (Caricom) Alison Drayton stated that social justice is the foundation for sustainable Caribbean transformation that aims to provide a platform for initiatives and activities to follow thereafter.
"Sustainability is not concerned with one off, but rather with the long term with strategic, effective use of resources to achieve objectives over an extended period of time for the benefit of all," Drayton added.
President Ali added that social justice for workers is accessibility to financing to ensure that future generations of workers have access to education, healthcare and equal opportunities, thus it is not about creating a framework solely for existing workers.
However, while it is a global responsibility, each country has different capacities and as such each must have an individualised framework to attain this foundation of social justice.
"Our circumstances are different, our cultural makeup is different and unless we can appreciate this and we can build our policy and our programmes around this frame, we will do a great injustice to policymaking," Ali said.
He also added that Guyana is working to build a system for the future with increased availability of training and scholarship programmes.
Though with the inclusion of technology within the workspace, focus will also have to be shifted to revamp the education system to better integrate workers.
This 12th ILO meeting, to end on Thursday, is seeing Labour Ministers and senior officials from 12 ILO member states and nine non-metropolitan territories in the English and Dutch-speaking Caribbean participating alongside representatives from regional workers' organisations and employers' organisations.
Other speakers at Tuesday's opening ceremony included Labour Minister Joseph Hamilton and ILO Director General Gilbert F Houngbo.