…by violating confidentiality of Cabinet meetings
A few days ago, several Ministers of the former Government were questioned by the Special Organised Crime Unit (SOCU) in what has been described as the Pradoville probe. Could this course of action have established a precedent for successive Governments?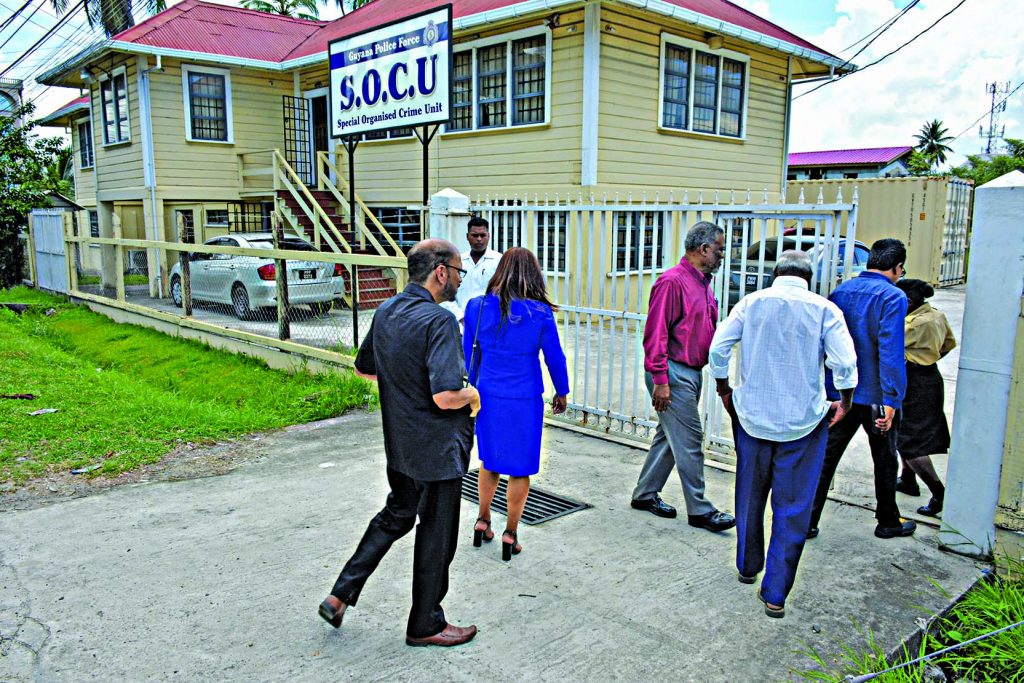 Former Attorney General Anil Nandlall certainly thinks so. According to Nandlall, in his recent writings, the sacrosanct nature of cabinet meetings dates back many years, and is in place across several countries.
"This week, SOCU has done that which may be unprecedented in the history of the Commonwealth: its officers grilled a number of members of the Cabinet of Guyana of 2010 in relation to policies discussed and decisions taken at a Cabinet meeting held during that year."
Nandlall cited several cases, including Conway V Rimmer and the text Cabinet responsibility to legislature (India) by G. C. Malhotra, to make the point that cabinet must be insulated from undue interference. He also cited Australia, explaining that when a government changes, the minutes of cabinet meetings are archived for 25 years.
"Cabinet is created by Article 106 (1) of the Constitution, which prescribes its composition to be the President, the Prime Minister, Vice Presidents, and such other Ministers as may be appointed to it by the President. Its functions are, 'to aid and advise the President in the general direction and control of the Government of Guyana, and shall be collectively responsible therefore to Parliament," Nandlall stated, quoting from Article 106 (2) of the Constitution.
According to Nandlall, SOCU has breached this principle. He revealed that when the former Ministers were questioned last week, SOCU officers had in their possession minutes from cabinet meetings dating back to 2010. And it was based on those minutes that they were questioned.
"By so doing, wittingly or unwittingly, a dangerous precedent has been set, with no lines drawn. It is now open to every future Government of this country to launch Police investigations in respect of policies and decisions collectively made by past Presidents and their Cabinet," Nandlall said.
"This must be ominous for this Government, as it has engaged in so many transactions that can easily be the subject of Police investigations. This can only lead to greater political acrimony and deeper cleavages in an already divided society. What is certain is an appointment to Cabinet has now become hazardous," Nandlall explained.
Questioned
On Wednesday morning, former Public Works Minister Robeson Benn and former Labour Minister Manzoor Nadir found themselves the latest to be questioned at SOCU's headquarters.
The duo was represented by former Education Minister Priya Manickchand, who disclosed that she, too, was called in for questioning regarding the matter on Tuesday.
Speaking to media operatives after being questioned, Benn revealed that he explained to the SOCU investigators that during the period surrounding the sale of the lands, a Minister had been murdered, and so Government did what "needed to be done" at the time.
He was referring to the assassination of former Agriculture Minister Satyadeo Sawh, his family and security personnel. Sawh and two of his siblings were gunned down in April 2006, shortly after they had returned to the Minister's La Bonne Intention (LBI), East Coast Demerara home.
Benn, who does not own property at the Sparendaam location, told media reporters that the overriding issue had to do with the stability of the country, to make sure that the President (Bharrat Jagdeo) and other members of the Cabinet get a home in a secure and safe environment away from criminal activities.
Last year March, former President Bharrat Jagdeo and former Head of the Presidential Secretariat, Dr Roger Luncheon, were arrested, while several other former Government Ministers under the PPP Administration were detained by SOCU officials who were probing misappropriation of State assets.
The arrest and detention was in connection with an ongoing probe into the acquisition of lands at "Pradoville 2", among other things. Days after that, President David Granger declared that the former Guyanese Leader should not have been treated the way he was.
In the past, SOCU has detained several former prominent Government officials in regard to their connection with the Pradoville 2 scheme. The reason these persons are being questioned is because they purchased property at the Sparendaam seawall area.
The current Administration contends that the transaction is a criminal act because of the belief that the land was sold below market value. However, the PPP has argued that subsidised housing has always been part of the legacy of the PPP, and that countless Guyanese have benefited from lands sold below market value.