Opposition's in-house protest
Some two weeks after the Opposition People's Progressive Party (PPP) took its protest inside the Parliament Chambers to register its disapproval of the unilateral appointment of Justice James Patterson as Chairman of the Guyana Elections Commission (GECOM), Speaker of the National Assembly, Dr Barton Scotland, on Friday issued a caution about such behaviour, saying that permission needs to be sought from him before such actions are taken.
Friday's parliamentary session saw the budget considerations going underway ahead of the 2018 Budget Presentation later this month, but not before the Speaker of the National Assembly, Dr Barton Scotland chided the Opposition for their protest in the assembly during the President's address.
Scotland noted that there is a process which has to be followed when seeking such a course of action in the Parliament.
According to the Speaker, the members should have approached him first to seek permission. Scotland also noted that more restraint should have been shown, since foreign dignitaries were present in the house.
"This assembly allows for dissenting views to be expressed. The assembly protects the rights of all its members to speak. It seems from recent events that the virtues we undertook to uphold are under threat," Dr Scotland said.
"There are rules which hold sway in the National Assembly. The relevant standing orders require members to maintain silence when an honourable member is addressing the house. As regards placards, those can only be done through the permission of the speaker, who can set such appropriate terms and conditions," Dr Scotland declared.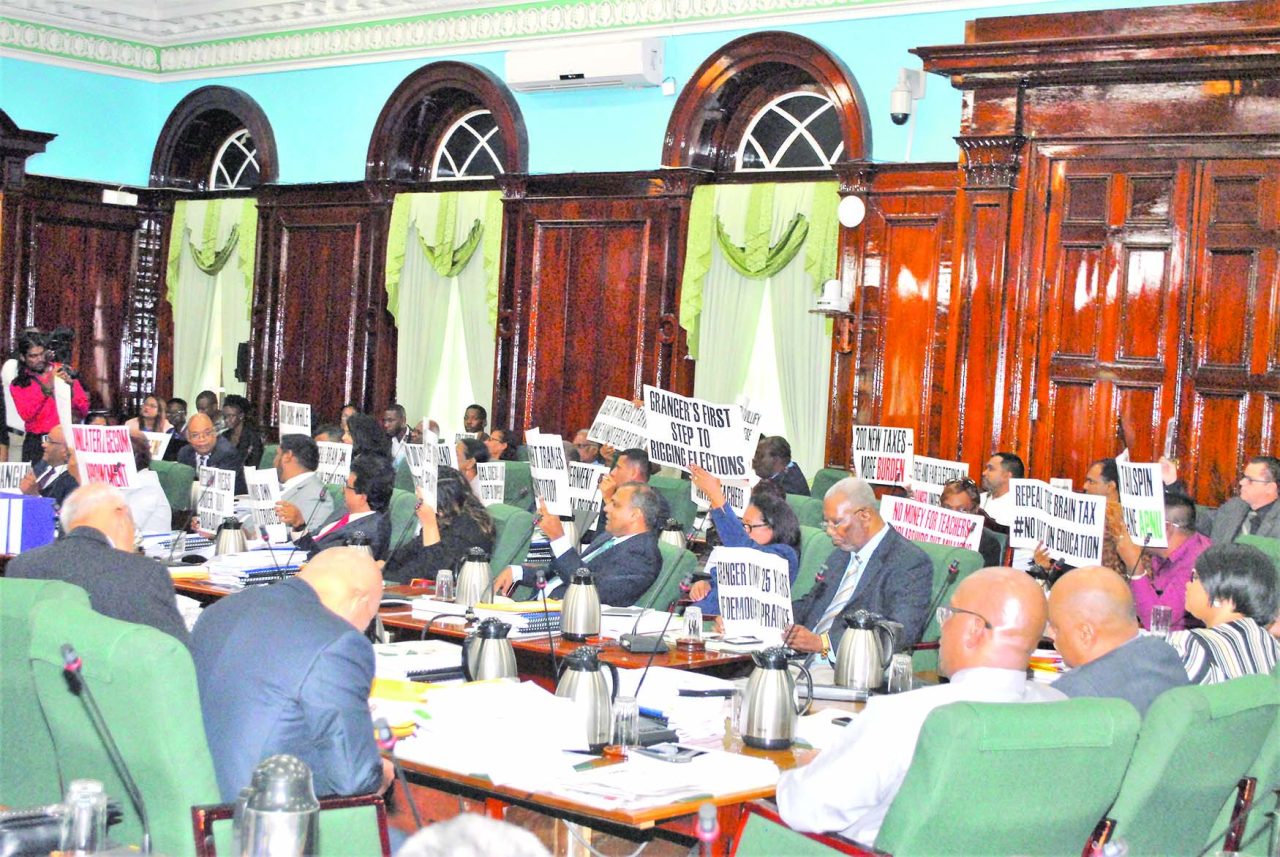 He noted that if the objective was to disrupt the President's address, it was fulfilled. Scotland stressed that respect should have been shown to President David Granger because he represented the state.
At the November 2nd sitting, when Parliament resumed from recess, President David Granger was faced with protests from parliamentarians seated on the Opposition benches, after passing through a large crowd of placard-bearing protesters outside.
A number of individuals and organisations spanning a wide cross-section of society have soundly criticised and condemned the President's decision to unilaterally appoint a chairman for GECOM, including the Guyana Bar Association; the Berbice Bar Association; the Private Sector Commission (PSC); the Guyana Manufacturing and Services Association (GMSA) and the Georgetown Chamber of Commerce and Industry (GCCI).
Criticism has also come from the Guyana Human Rights Association (GHRA) and members of the diaspora.
In addition, the political Opposition has filed a legal challenge in the courts seeking to revoke Patterson's appointment.
There have even been resignations following the appointment; noted activist Christopher Ram from a committee handling the setting up of a local law school; and Major General (ret'd) Joe Singh from his position as a Presidential Advisor.
In light of heated debate in the public domain, persons had expressed expectations that the President would use the occasion to address concerns regarding the issue.