…begin selling at Route  42 bus park
After taking four months to establish a new area and construct stalls following the relocation of vendors from the Stabroek Wharf, the merchants have restarted their trade at the Route 42 bus park.
Speaking with Guyana Times on Saturday, Public Relations Officer of the Mayor and City Council, Debra Lewis said that vendors were recently allowed to move into their new stalls and begin to sell.
She noted that after six weeks, the Council will move to collect a monthly fee from the vendors. However, only those who are completely finished building had moved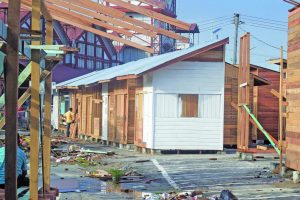 into the new structures.
"Once they build, they can move in. They have a grace period when they move in which is six weeks after. Some of them have moved in already. Right now, you would see persons occupying. Not all but some of them who are finished," said Lewis.
Since June of 2016, it was reported that former Town Clerk Royston King had declared the commencement of works at the wharf.
At that time, the budget for the complete refurbishing of the wharf was pegged at some $400 million. After the repairs, the section of the market which faces the Demerara River would be converted into a mall, inclusive of a boardwalk and entertainment areas. If the ideas were approved by the vendors, they would be required to pay a larger sum of money to rent the new building.
In the past, over 300 merchants were situated at the wharf, but this number has been reduced to just over 80.
The works at the wharf is expected to last for two years and as such, this also means that the Route 42 (Grove-Diamond) bus park will be displaced for the same period of time.
In November 2018, a fire would have destroyed a section of the wharf after it was cordoned off for rehabilitation.
For now, the new stalls are uniformly painted in two different sizes. The smaller size, measuring five feet by eight feet with a height of 13 feet, is set a cost of $3400 per month. The standard size, measuring 10 feet by eight feet with 13 feet height is priced at $6800 per month.
As it relates to payment, some persons have complained that they were informed of a $10,000 fee which was to be paid to the Council. While only some were briefed about this "arrangement", others are under the impression that it is not a standard agreement.