— report says highest un-risked estimate for Tanager is 131M barrels
The Tanager-1 well that oil giant ExxonMobil drilled and plugged last year, is estimated to contain over 65 million barrels of oil. At least this is according to a report produced by an independent consultant.
United Kingdom (UK) investment firm Westmount Energy, which holds indirect shares in the Kaieteur block, released a statement in which they alluded to a post-well report from independent consultant Netherland, Sewell and Associates Incorporated (NSAI).
In NSAI's Competent Person Report (CPR), they had noted that Tanager-1 contains a 'best estimate', unrisked gross oil resource of 65.3 million barrels of oil. However, an unrisked estimate means its commercial value is not factored in.
Additionally, NSAI ranged their estimate from the low to the high. For instance, the lowest estimate is 17.7 million barrels of oil, the best estimate 65.3 and the highest estimate 131 million barrels of oil.
Last year November, it was announced that the much-anticipated Tanager-1 well, which many expected would lead to an oil discovery, was found to contain oil that was not commercially viable.
Westmount, had revealed in a statement that ExxonMobil encountered 16 metres of net oil pay. Westmount Executive Chairman Gerard Walsh had at the time described Tanager-1 as a "mixed bag".
"The outcome of the Tanager-1 exploration has proved to be a mixed bag – confirming the extension of the Liza play fair way onto the Kaieteur Block, but apparently coming up short at the deeper stratigraphic level," he had said.
Tanager-1, drilled by the Stena Carron is the deepest well ExxonMobil has so far drilled offshore Guyana, with a total depth of 8000 metres.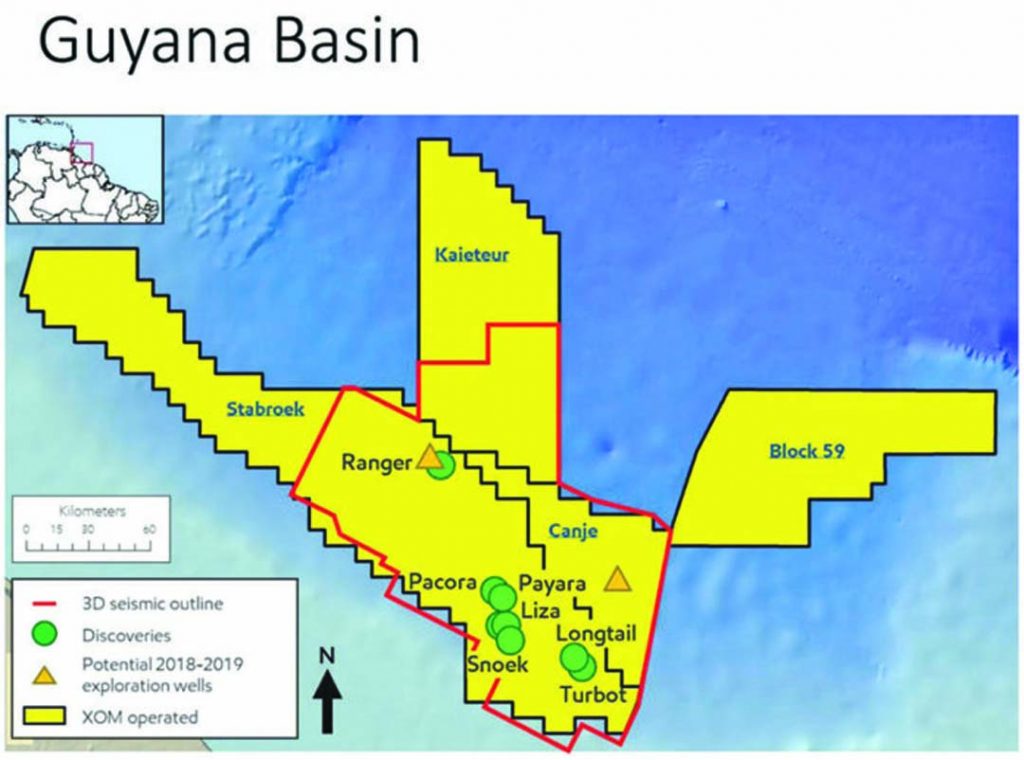 It was also widely believed by experts to have high prospects of success. In fact, Westwood Global Energy Group had identified Tanager as a key well to watch. Back in September 2020, analyst Jamie Collard had this to say during a webinar.
"If we start with Suriname and Guyana…Westwood has highlighted two wells – Sloanea and Tanager as key wells to watch. They are both targeting the upper cretaceous. Tanager is targeting an upper floor fan outward of the Liza discovery and Sloanea will be trying to extend the Liza play further up," Collard had said.
Exxon, through its subsidiary Esso Exploration and Production Guyana Limited (EEPGL) operates the Kaieteur block with a 35 per cent stake, Ratio owns 25 per cent, Cataleya Energy now has 20 per cent, and Hess now holds a 20 per cent stake in the Kaieteur Block. Westmount owns stakes in Ratio (0.7 per cent) and Cataleya (5.4 per cent).
Since Tanager, ExxonMobil has found commercially viable oil elsewhere. Last month, the oil company announced its 21st and 22nd oil discoveries offshore Guyana in the Stabroek Block, striking oil at the Whiptail-1 well, which it started drilling only in June, and the Whiptail-2 well.
According to Exxon, drilling at Whiptail-1 encountered 246 feet of oil reserves. The double discovery of oil by Exxon's subsidiary, Esso Exploration and Production Guyana Limited (EEPGL) follows its 20th oil discovery at the Longtail-3 well in June.
Additionally, Whiptail-2 well encountered 167 feet of oil reserves while being drilled. Exxon said that drilling will continue at both wells to test for deeper targets, with the results being evaluated for future development.
ExxonMobil envisions at least six projects online by 2027 and sees potential for up to 10 projects to develop its current recoverable resource base. The Liza Destiny FPSO vessel is currently producing about 120,000 barrels of oil per day.