Peoples Progressive Party/ Civic (PPP/C) Candidate at the March 2 Elections, Priya Manickchand, has alleged that Chief Elections Officer Keith Lowenfield's unilateral invalidation of over 115,000 valid votes in order to concoct figures to show a 'victory' for the caretaker APNU/AFC Coalition amounts to electoral fraud.
Manickchand, who is also a lawyer by profession, during a recent interview with St Lucia's Choice News Now, challenged Lowenfield to take legal action against her and others who have accused him of being partial towards the incumbent APNU/AFC Coalition, so that the issue could be "interrogated in Court".
"We believe, and we are alleging strongly — and I hope he sues me, so that we can interrogate this in a court — this is electoral fraud that he is engaging in," Manickchand told host Janeka Simon.
Last month, the Chairperson of the Guyana Elections Commission (GECOM), retired Justice Claudette Singh, instructed Lowenfield to prepare his final elections report based on the results of the National Recount, which shows the PPP/C in a landslide lead over the Coalition by more than 15,000 votes.
However, the CEO, in his "fraudulent" report, went ahead and invalidated over 115,000 voters to give the APNU/AFC a win with 171,825 votes while the PPP/C was given 166,343 votes. The recount exercise, which was certified not only by GECOM, but by a special Caribbean (Caricom) Team as well as other local and international observer groups, put the PPP/C in the lead with 233,336 votes while the APNU/AFC got 217,920.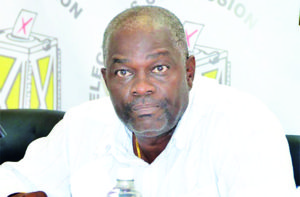 During the interview on Thursday, Manickchand explained that Lowenfield provided two reports on two separate occasions, both of which contained figures which were different.
She explained that in his first report, the CEO sought to invalidate 285,000 votes. "He did not tell us why, he did not tell us how, he did not tell us how he reached that number. He decided by himself the 285,000 votes from the people of this country would be invalidated," she outlined.
Manickchand, a former Education Minister under the PPP/C Administration, argued that there was never any doubt about the votes being counted. "It was always valid votes, you can't count invalid votes," she said.
She detailed that on the night of the election, when all the votes were being counted, the valid votes were separated from those that were deemed as invalid or rejected. Invalid votes, she said, were placed in a separate envelope. Manickchand reminded that the process was done in the presence of party agents and local and international observers.
She pointed out that following the Court of Appeal's decision, Mr Lowenfield took it upon himself and returned with a second report to the Commission, this time seeking to invalidate 115,000 valid votes.
"Again, he failed to tell us how he reached this number. Why is it that 115,000 votes are invalidated? Who told him to invalidate them?" she asked.
Manickchand further insists that no court would place that authority in Lowenfield to invalidate votes in an electoral process.
"We are saying…the Court of Appeal did not give Mr Lowenfield any ability to determine by himself what valid votes are and what valid votes are not".
Outgoing CARICOM Chair, Barbados Prime Minister Mia Mottley, a few days ago, expressed concern over the CEO's latest report, in which he sought to present concocted figures in favour of the incumbent APNU/AFC Coalition and at the same time discard over 115,000 valid votes.
In a video statement, PM Mottley had asserted that Lowenfield's numbers cannot vary from those coming out of the National Recount. She had noted that, from the inception, CARICOM has been clear in consistently calling for every vote to be counted in a fair and transparent manner.
Similar calls have been mounted by stakeholders both locally and internationally.
However, despite facing backlash from numerous credible local and international organisations, Lowenfield last week defended his action to invalidate thousands of votes by claiming he acted constitutionally.
But many legal luminaries have argued that no law in Guyana's Constitution empowers the Chief Elections Officer to invalid any vote, or disenfranchise any voter.
They further contend that the post of the Chief Elections Officer is a contractual statutory one, and not a constitutional one. It was created by the Representation of the People's Act (ROPA) and not by the Constitution of Guyana, which created the posts of only the GECOM Chair and Commissioners.
As such, the CEO does not possess the power to invalidate any vote. This can only be done via an elections petition to the Elections Court, that is, the High Court, after the declaration of the final elections results.