…signals sanction against Govt, GECOM officials
The Government of the United States of America has sounded its starkest warning yet to the Guyanese election authorities, "to follow accepted procedures and allow international observers to verify the results".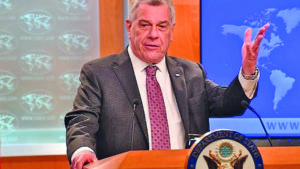 This, according to White House acting Assistant Secretary for Western Hemisphere Affairs, Michael Kozak, who on Thursday weighed in on the Guyana elections debacle and the melee surrounding the declaration of the Region Four (Demerara-Mahaica) results of the March 2, 2020, General and Regional Elections.
Kozak, in a stern warning, cautioned that "under US Law and Practice, those who participate and benefit from electoral fraud, undermine democratic institutions and impede a peaceful transition of power can be subject to a variety of consequences."
He was adamant, "de facto regimes do not receive the same treatment from us as democratically elected governments.
As such, Kozak noted, "it is essential that the High Court-mandated elections tabulation in Guyana be concluded in a free, fair and transparent manner".
The warning by the US Government comes a day after UK Foreign Secretary, Dominic Raab called on President David Granger to preserve the sanctity democratic elections.
"We call upon the President to preserve the principle of free, fair and credible elections. Allegations of electoral fraud and premature declarations of victory prior to the completion of a credible process pose a grave threat to the democratic principles of Guyana. We call upon President Granger to ensure that proper procedures are followed before embarking upon a transition of government," Raab said.
He added that the UK is deeply concerned about the events following the elections in Guyana and that his government stands ready to offer assistance to ensure a credible election result is produced.
Meanwhile, Stéphane Dujarric –Spokesperson for United Nations Secretary General António Guterres, had also joined the growing chorus saying, "I can tell you we are following with concern the latest developments there, particularly the allegations that the tabulation of votes from one of the regions, namely Region 4, was not done according to proper legal procedures."
On Monday last, Secretary of State, Mike Pompeo announced that he discussed Guyana's elections during a meeting with Canada's Deputy Prime Minister, Chrystia Freeland.
In a post on social media site – Twitter – Pompeo said he spoke about several issues including "support for democratic transition in Guyana".