Nabacalis murder
Forty-four-year-old Vinetta Headley-James, the mother of eight who was attacked and stabbed to death by her husband on Wednesday afternoon reportedly suffered years of abuse.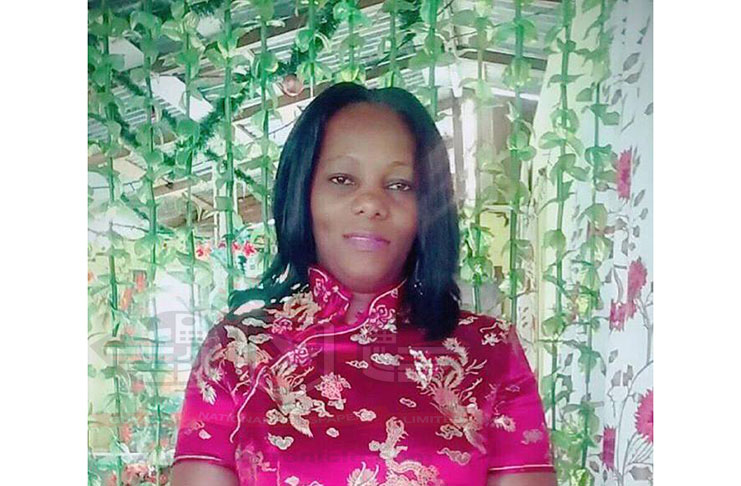 The now dead woman was killed at around 12:50h at the Lot 68 Nabacalis, Sideline Dam, East Coast Demerara (ECD) home which she shared with her husband, 45-year-old Sherlock James.
Guyana Times understands that on Sunday evening last, the now dead woman was attacked by James, who had reportedly stabbed her to her face and neck, however, she had managed to escape. James had reportedly left the scene of the crime and could not be found.

However, on Wednesday the man returned but to his dismay, he found his wife, the now dead woman, in the process of throwing his belongings out of the house.
One of the couple's daughters told investigators that James requested that his wife cease doing so but the woman refused.
This angered James, who reportedly ran into the kitchen, picked up a knife and attacked his wife, this time fatally wounding her to the neck.
Headley-James was picked up and rushed to the Nabacalis Hospital, where she succumbed while receiving treatment.
James was later discovered lying in a clump of bushes close to the house with a self-inflicted stab wound to his neck. He was picked up and rushed to the Georgetown Public Hospital Corporation (GPHC) where he is presently a patient under Police guard.
The police said the incident may have stemmed from an argument owing to the woman's alleged extramarital affair. However, a neighbour and friend of the woman told a different tale.
When Guyana Times visited the woman's house on Thursday, a relative, Brenda (only name given), recalled that the now dead woman sought refuge at her home on Sunday night during the first attack.
According to the woman, she was startled by a loud banging on her door and when she inquired, she saw the woman standing with blood dripping down her body.
"She ran over at me with a stab wound here [pointing to face] and one at her neck and then she told me that she small daughter get a stab in her back. I was counselling her, I told her that I don't like what was going on and I told her that many times this does lead to murder, I [told] she abuse you mustn't be silent about it, I said speak out about abuse, I had her here until about 02:00h she leave and she went home" the woman revealed.
Further, Brenda revealed that during the said time, the now dead woman told her that she faced several years of abuse, which had recently intensified.
"She said teacher Brenda, years, years this going on. Abuse, she seh was too much and some incident happened recently and the children them called the father and she said from then to the night that she was at me is abuse all the time, all the time but he ain't showing it out to the children them like during the day, they even went to church on the Saturday and he telling them that everything would be alright" Brenda informed.
The woman told Guyana Times that she was told by Headley-James that problems always arise every time she attempted to seek employment.
"She said every time she starts working, he accuses her of having some man, when she starts dressing and making herself nice, is some man."
However, the woman said that on Wednesday, she was doing chores when she heard screams.
"It was my daughter calling from upstairs, so when I ran out, I saw her (dead woman) daughter and her baby running over the bridge, so I see like somebody fall into the trench or something but when I meet to the car I saw this woman, her throat was slit and she had something over the neck. My son went into the car with her and I notice her head fall back so I started crying out loud and I realise that she wouldn't be able to make it" the woman recalled.
However, another neighbour and friend of Sherlock James described him as a family-oriented person.
"Lowme (perpetrator) is a person that like family, he is a person that would go to the extent to make sure he family get what they need…I don't know about any issues that they had but I know him for a long time and I know that it had to be something drastic for him to do something like that" the man solemnly explained. (Kizzy Coleman)