…damages being assessed in other sections along protest route
By Jemima Holmes
One day after vendors on the East Coast of Demerara were terrorised by looters while plying their trades at various markets, several persons have been readily compensated.
On Tuesday, an armed and errant mob stormed the Mon Repos Market, ECD, where they destroyed stalls and vehicles, and made off with goods and food items all in the name of protest action. They also beat and terrorised vendors at the market.
However, before they had got to the village of Mon Repos, the group wreaked havoc all along the East Coast carriageway. Numerous roadside stalls were either dismantled or burnt, and some were even thrown in the middle of the road to act as road blocks.
One place that suffered such a fate was the Lusignan Market, where vendors are still assessing their losses.
At Mon Repos, however, the Neighbourhood Democratic Council (NDC), along with vendors from the market, joined forces to clean up the debris that was left in the looters' wake on Tuesday.
Yet, normalcy is something they may not be soon achieved, since numerous vendors refrained from opening their stalls on Wednesday, either due to fear and/or a lack of goods. The few who were able to set up shop were among a group that received compensation from the Government of Guyana on Tuesday evening at State House.
The compensation, which was promised by President Dr Irfaan Ali, amounted to millions of dollars, with one vendor receiving as much as $3M. Another vendor, whose vehicle was damaged, received $1.5M, and yet another vendor received $2M, to compensate for his minibus that was torched by looters.
Satisfied with the compensation received
A vendor who wished to remain anonymous related to this publication that he is satisfied with the compensation and the fast pace at which it was given to them.
"For me, I get exact. What me lose I get back, and I glad," the vendor told <<Guyana Times.>> He disclosed that over 100 vendors were compensated on Tuesday evening, but there were still many who were not able to make it to State House, owing to Police roadblocks on the East Coast.
As for those vendors, a temporary 'sign-up' operation has been set up by Government officials in Market Street, Mon Repos. The operation will allow them to create a list of persons who have not yet been compensated, so as to disburse monies to that group. According to the vendors, those who were compensated on Tuesday cannot put their names on the second list.
Lusignan Market vendors
Meanwhile, further up the ECD, a group of vendors at the Lusignan Market were observed assessing damages on Wednesday morning. Mainly pension-aged women who sell to make an extra dollar for their families, those vendors detailed that they have no other option to earn now, since their stands were destroyed.
Zareena Mohamed, whose enclosed stand, stocked with goods, was used as a roadblock and torched, said she was not at home to witness the destruction.
"I wasn't home. I went to carry my husband for exercising therapy. They come and they hoist the stand over and they burn it. I wasn't there. Everything inside, everything, my gas stove, my glass case, stocks, everything I had inside there," a weeping Mohamed shared.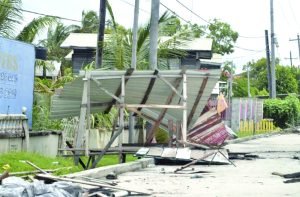 The woman, who is currently the bread winner for her ailing husband and herself, explained that she is in desperate need of help to rebuild. She disclosed, "I not gon get to sell. I try selling here cause me husband nah work. My son didn't want to tell me the stand burning, cause I went at the market. I drop he off. Me husband sick, he get surgery, so he does got to go to the place to exercise (get therapy). I glad to get lil help to build back this stand and build back this glass case and so on." Mohamed estimated her losses at $500,000.
Another vendor, who estimated her losses at the same sum, revealed that her worker was also assaulted during the distressing ordeal on Tuesday.
"They beat up this lady, harass her. She had to move the stuff and carry it at the back of the other stands," Seeta Rampersaud told this publication.
She added, "I does sell pillow out here, and they break down the pillow stand, burn up my other stand with the…achar them and a lot of stands that I use, bench and all them things to sit on. The stand alone cost over $200,000, cause that's iron with hollow section and other material them. Plus the pillow that they carry way, pepper sauce and everything, it cost over $500,000," the frustrated Rampersaud said while counting her losses.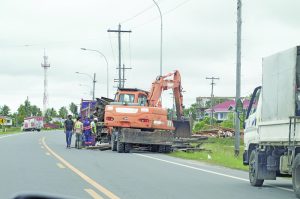 A third vendor said all she needed was the stand rebuilt, since she did not have any goods at the location at the time of the looting.
"I just want some help to build back my stand, cause I get in an accident, I'm not working, I'm a pensioner," Shanta Motielall indicated.
"Me ain't want nothing more, just some help to build back my empty stand," she further stated.
A massive protest erupted at Golden Grove, East Coast Demerara early on Tuesday morning in reaction to an inaccurate news report which stated that the officer behind the gun in the shooting death of Quindon Bacchus on June 10 was released from Police custody. Even as the Guyana Police Force (GPF) said that the information was untrue, the protest was already initiated, with looters making their way down the East Coast corridor, robbing persons and blocking roads.
While visiting the area hours after, President Ali sent a stern warning to those who committed the acts, and even those who instigated it, assuring that they would face the full brunt of the law. He also asked concerned citizens to give the GPF some more time to complete their investigation. The file is expected to be submitted to the Director of Public Prosecutions (DPP) in the new week.